There are a lot of investing software out there, but when it comes to value investing not all tools come equal. I compiled for you a list of the top 10 value investing software I personally use.
Most of them have a screener, but some of them offer very unique features which is why you might like to try all of these investment analysis software.
Finviz is popular investing software that mainly offers a stock screener and insights on stocks.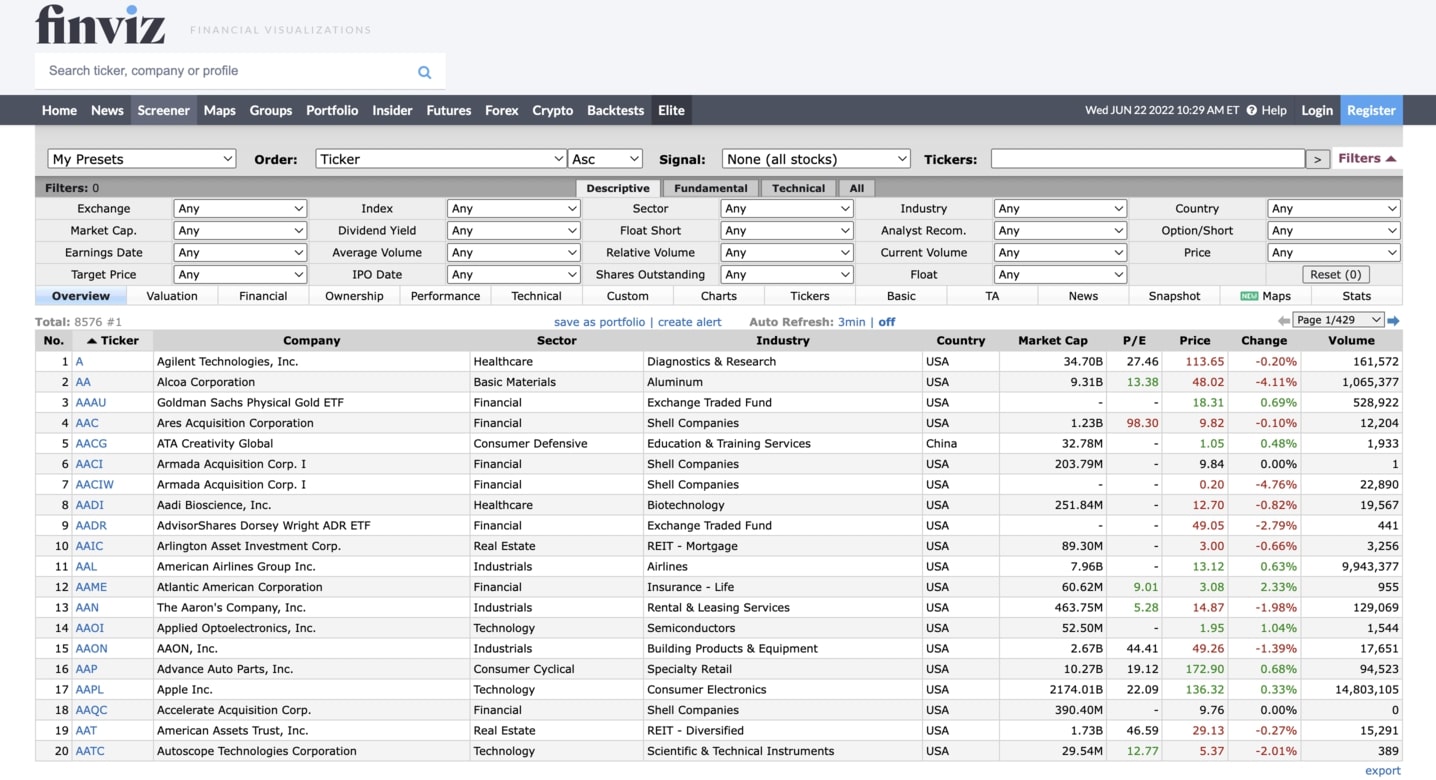 It is entirely free, but the only downside is that it covers only US stocks. The design of Finviz can also be a bit hasch if you are sensitive to UI.
The best feature of Stockopedia is its StockRank score, which is a score that combines three other scores for each stock: Value, Momentum, and Growth.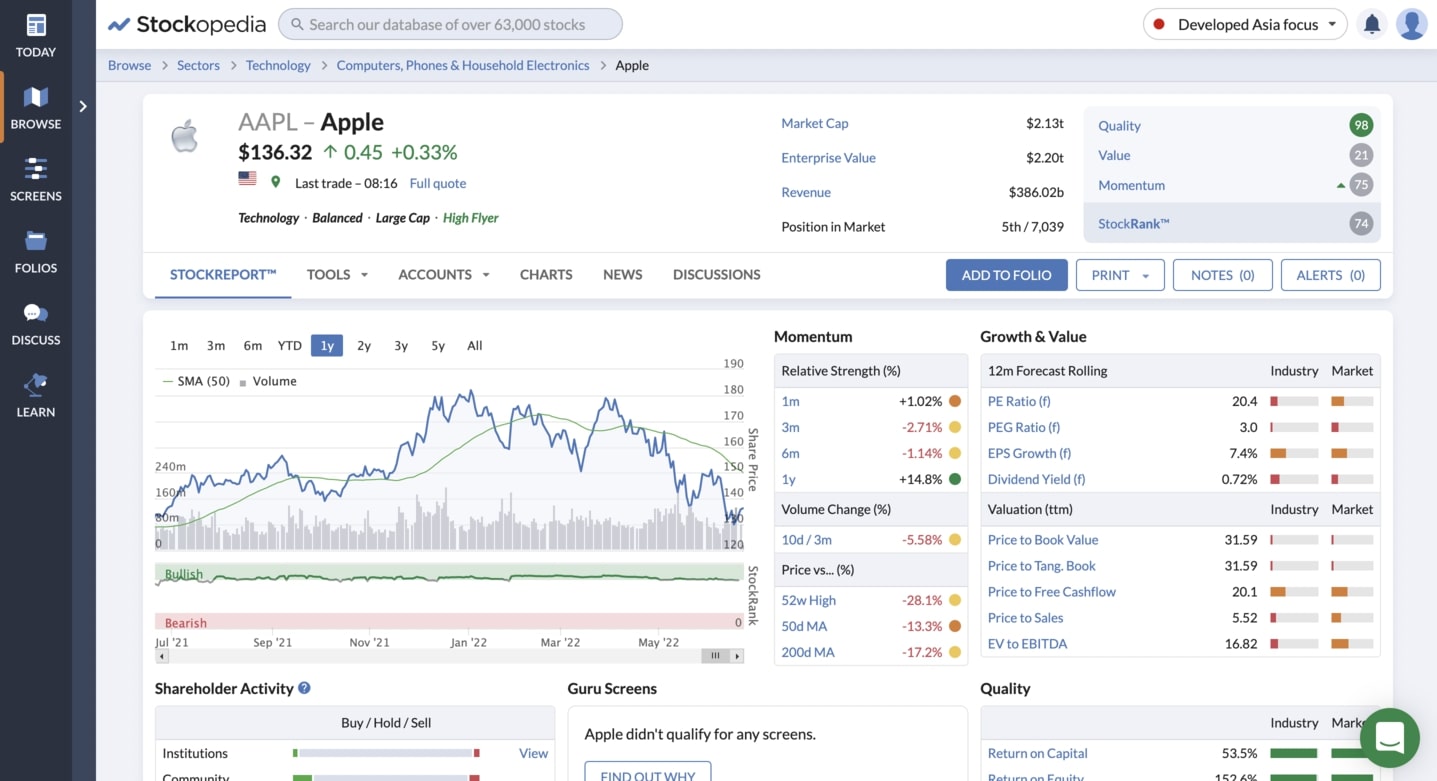 If on paper this is a great idea, I often found that the StockRank does not predict great stocks, but is on contrary a result of a stock flying high. A stock with good fundamentals, but with a sudden drop in the stock price will have its StockRank decrease where it should normally be a good signal to buy if you are certain of the fundamentals!
I also really like their stock presentation page, because you can see really fast the most important metrics, and how they compare with industry averages: PE ratio, PEG ratio, EPS Growth, Price to Free Cashflow, Return on Capital, Return on Equity, F-Score, etc...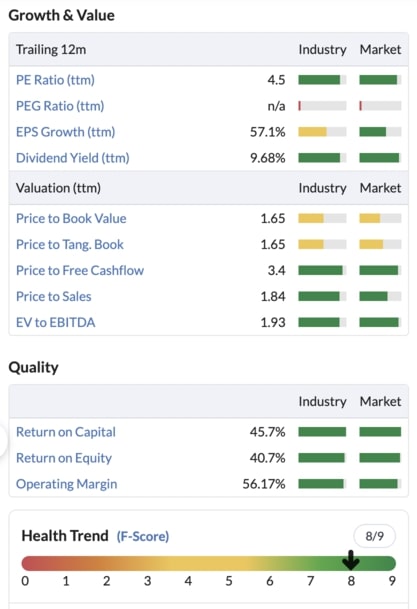 They also have an investment portfolio tracker, but I find it a bit clunky and it has no broker synchronization, so I would rather use Beanvest
Stockopedia offers a powerful stock screener, and has some interesting criteria to filter such as the StockRank, but also EPS growth, Free Cashflow growth, etc...
Last but not least, Stockopedia can become quite expensive if you want to subscribe to all regions, but I really appreciate that it is not focused on the US only.
Finbox is another investing tool I really like for stock valuation.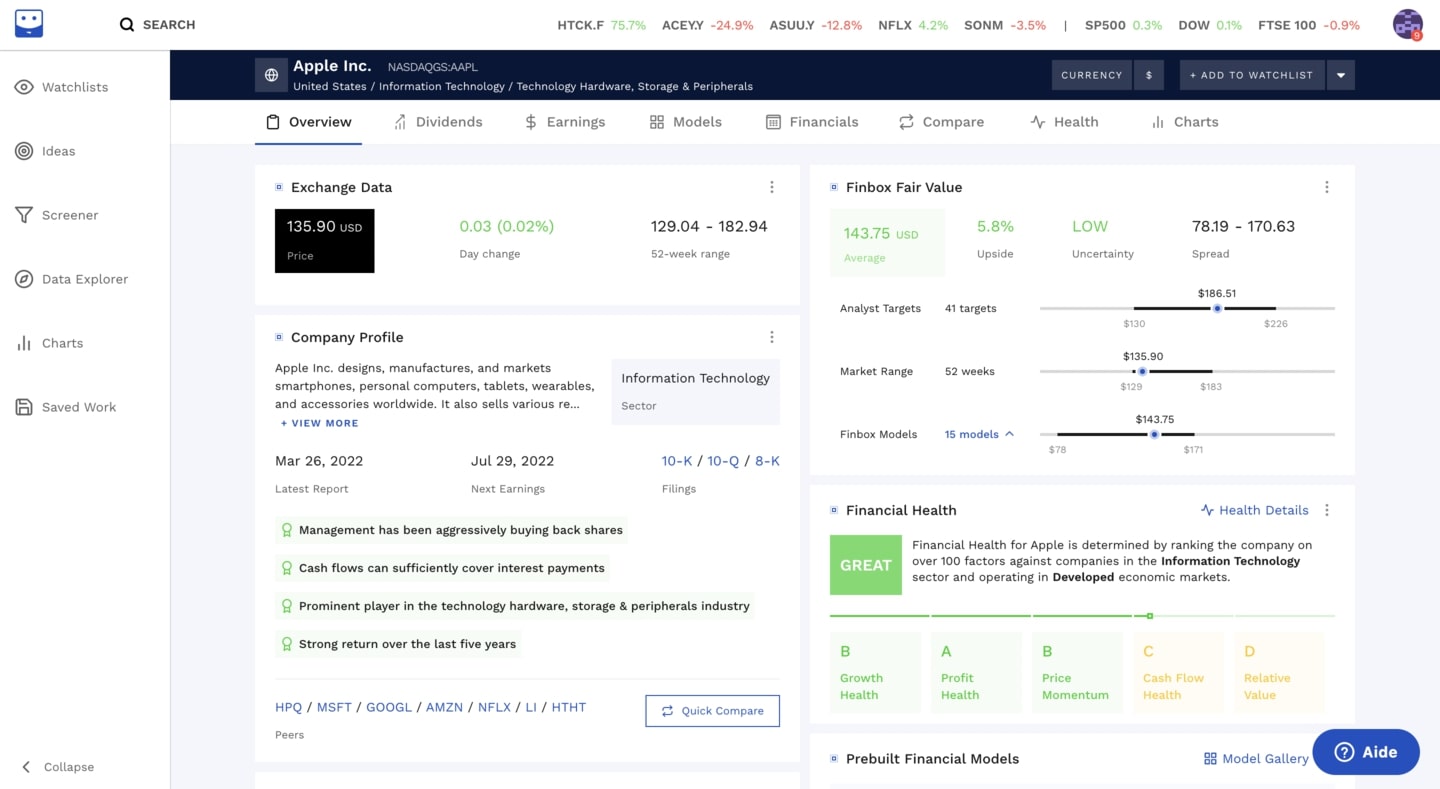 They have a good stock screener, but their most powerful feature is their ability to calculate the intrinsic value of stocks using different models such as ratio multiples or DCF calculators that they combine together to find an intrinsic value.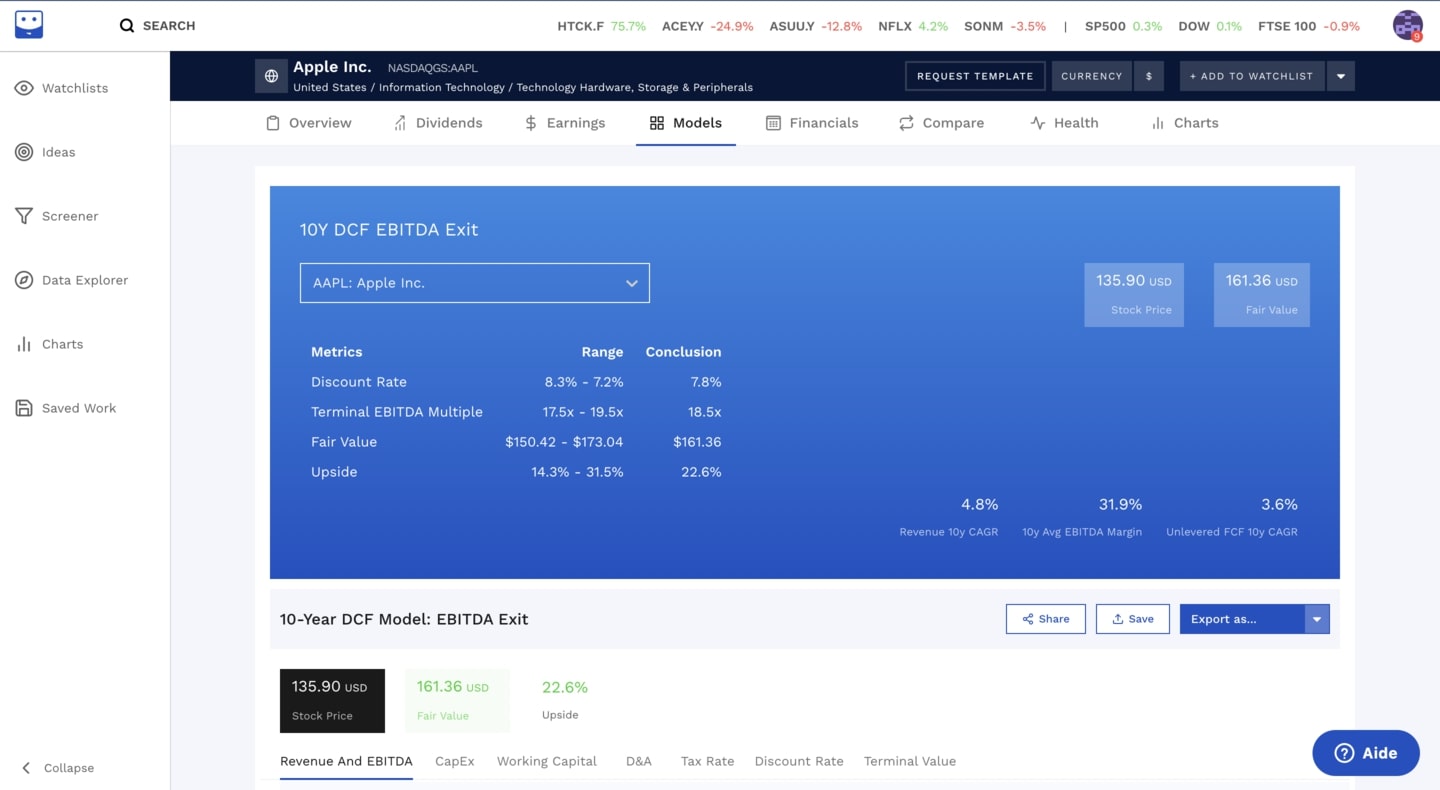 You can select a Discounted Cash Flow model, and customize it. Finbox also gives a rapid overview of the financial health of companies
Dataroma is an awesome free tool that will give you insights on stocks bought by "superinvestors" such as Warren Buffet, Charlie Munger, Bill Ackman, Li Lu or Michael Burry as soon it is publicly available.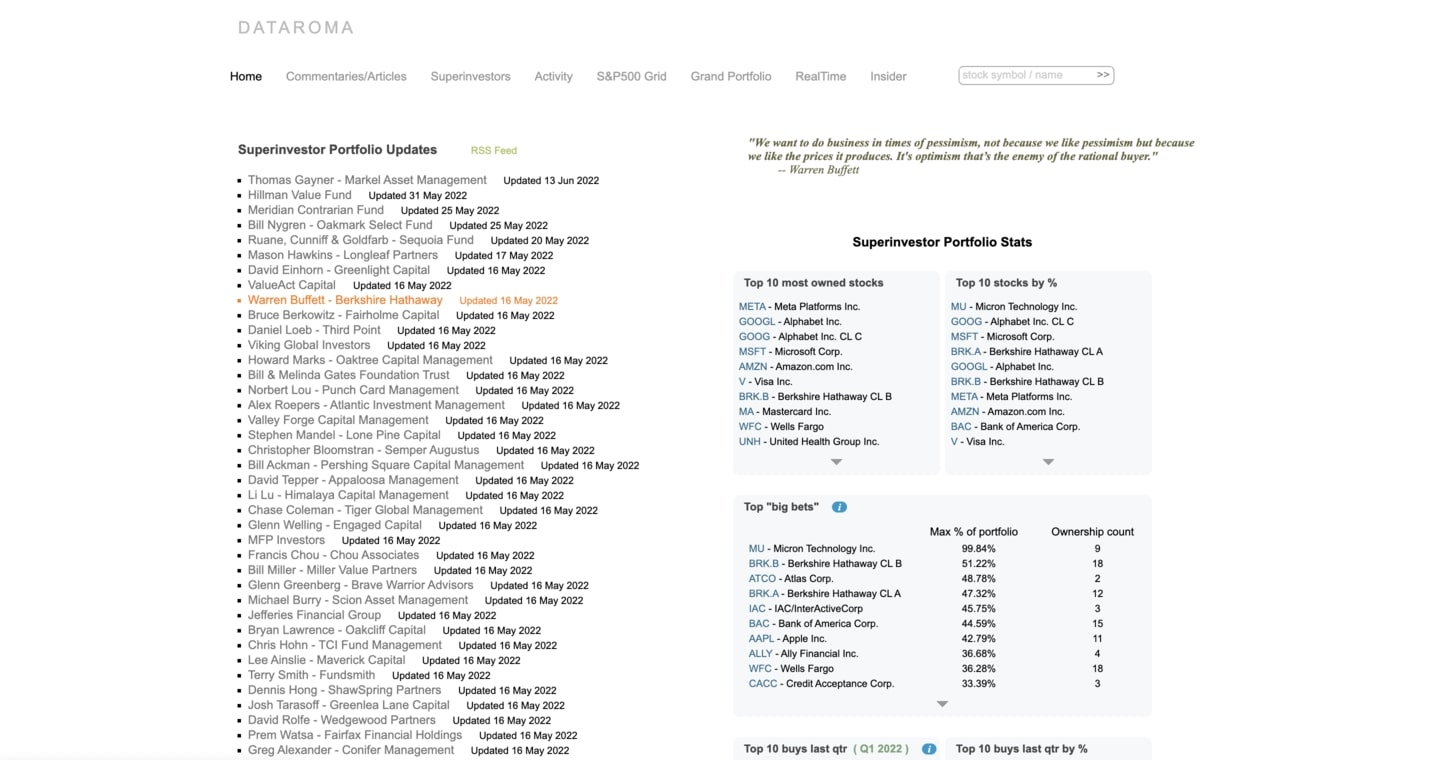 Dataroma also give some overview of the top 10 most owned stocks by these super investors. Therefore, Dataroma is a good place to find stock ideas, because if Warren Buffet likes a stock, you might like it too!
Another good feature of Dataroma is they show real-time insider trading data, so you can see if any insider bought or sold its own company, which can be a good signal to check.
A similar tool is Whalewisdom, but I use this one less often.
If you are interested in dividend investing, Simply Safe Dividends is just the best dividend tracker out there.
The best feature of Simply Safe Dividends is its Dividend Safety Score, which gives a score on dividend safety to make sure you invest in companies that will not drop their dividend. They can often predict when a company will drop its dividend even before they do it.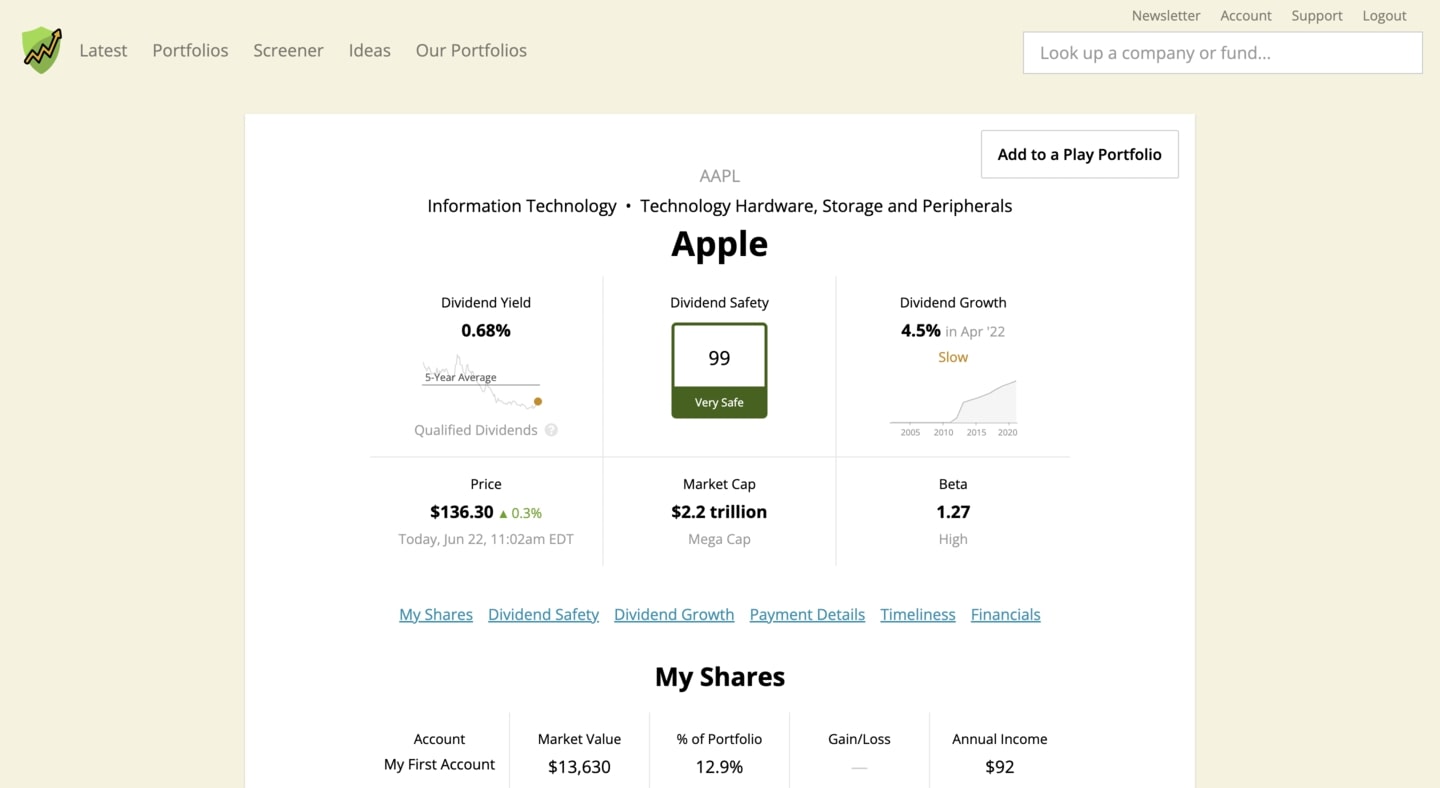 Their stock screener is also focused on dividend investing, with criteria such as dividend yield, payout ratio, or the dividend safety score. I really love their simple interface, which is very easy to use. Their portfolio tracker also is focused on dividend investing.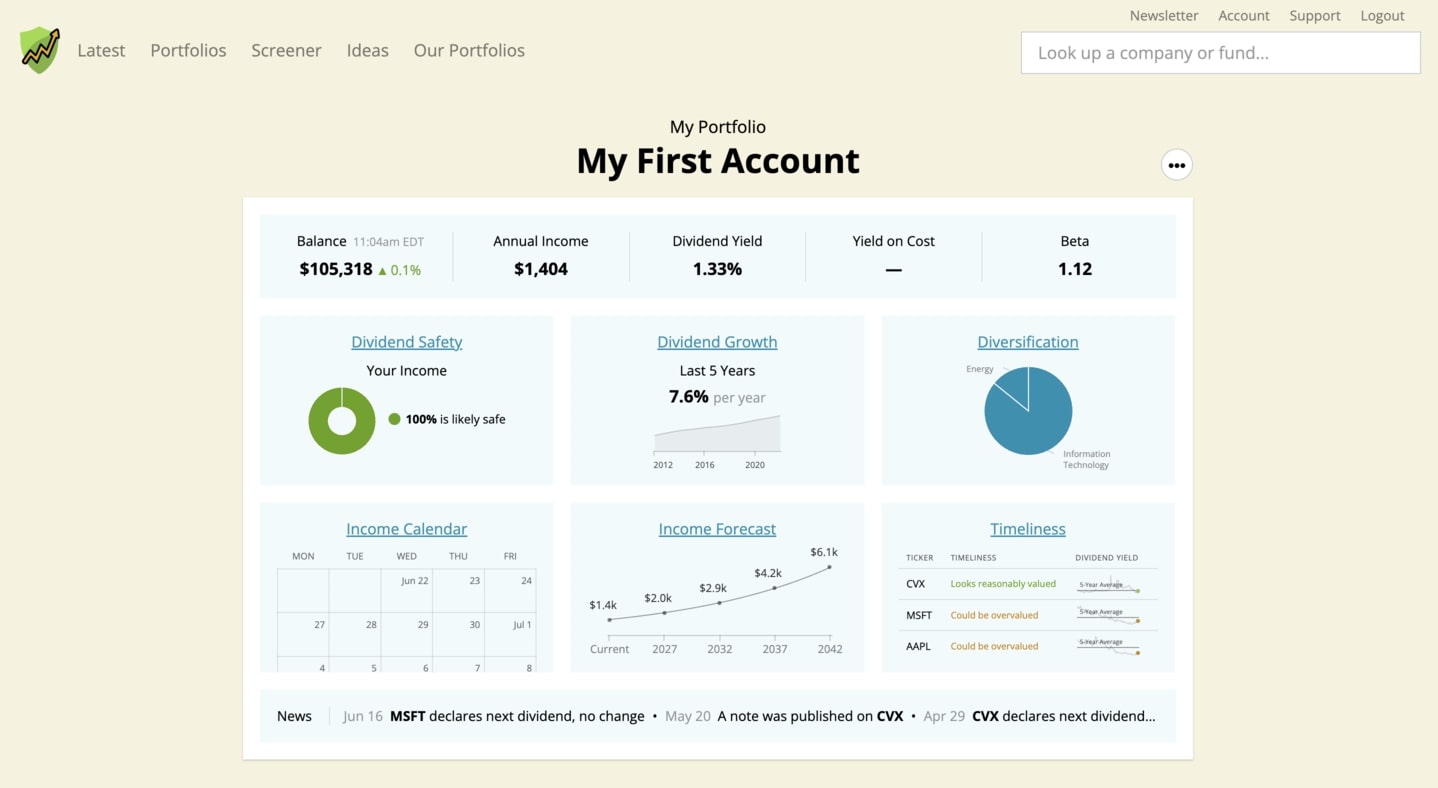 They also have three different model portfolios for dividend investing that you can get inspiration from. You also be able to find stock ideas such as high yield stocks, high dividend growth stocks, dividend aristocrats, dividend kings, ...
The only downside I see with Simply Safe Dividends is that they mostly cover US stocks, so if you are an international dividend investor, this might not be the best tool for you.
You probably guessed it, Ycharts is one of the best investing software to plot some charts. If you want to compare two stocks' EPS over time or visualize how the PE ratio evolves compared to EPS, you can do it with Ycharts easily.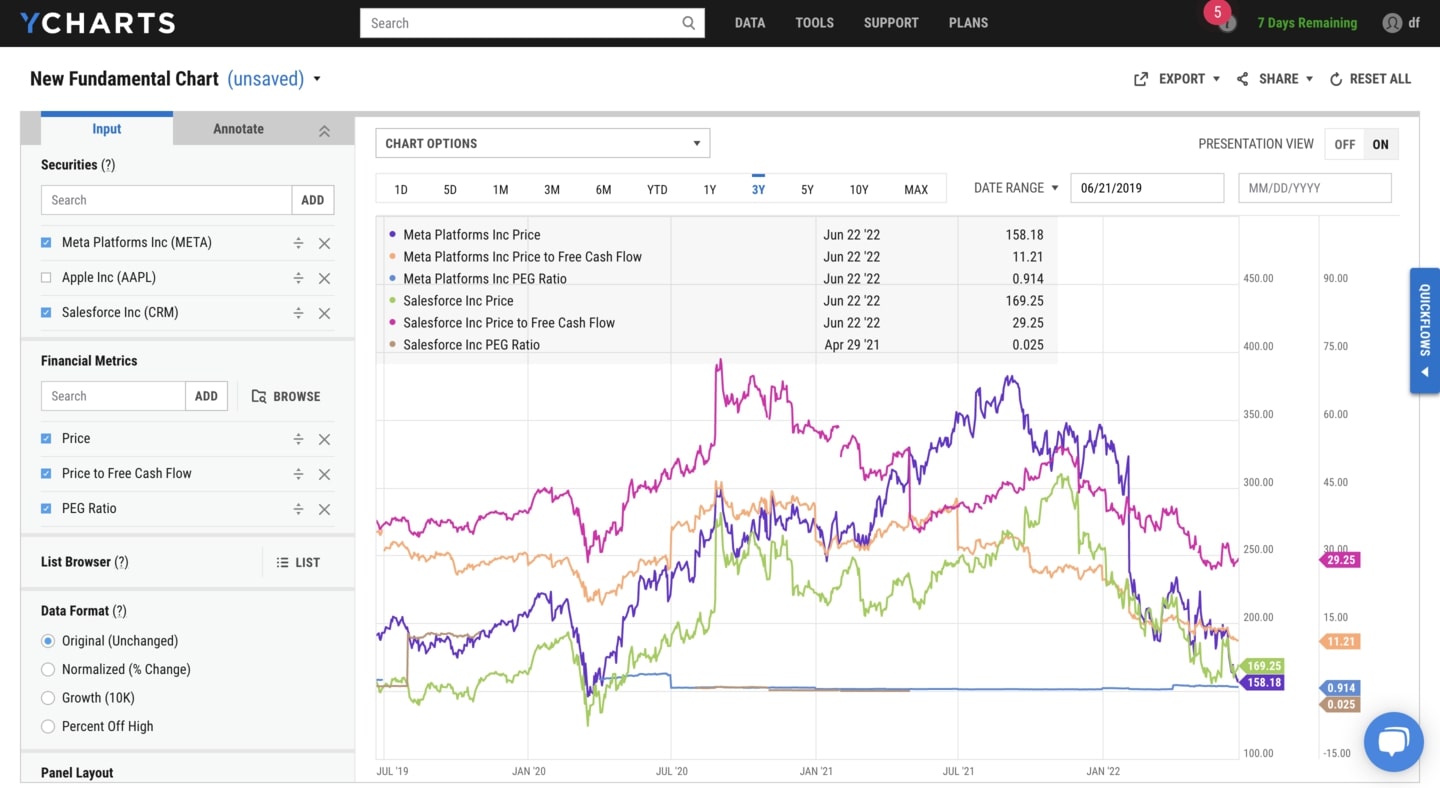 Another great feature I like on Ycharts is their Y-Ratings that gives a quick overview of a company's value score and fundamental score.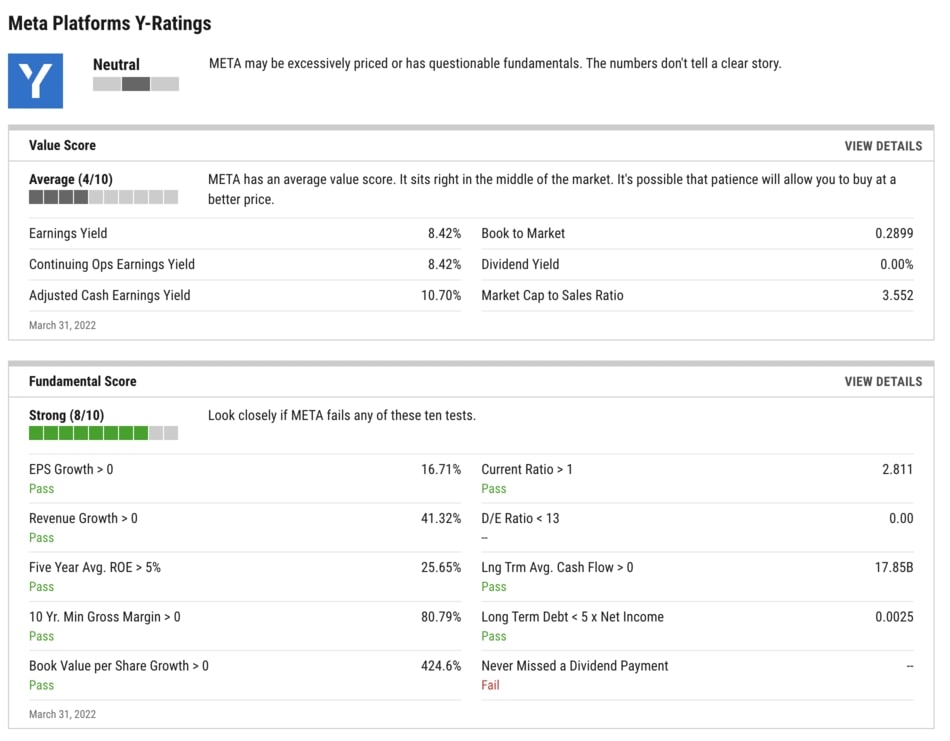 Fastgraphs has a very unique way to show a chart that combines the stock price correlated with its fundamentals. This is an awesome feature to see if a stock is undervalued.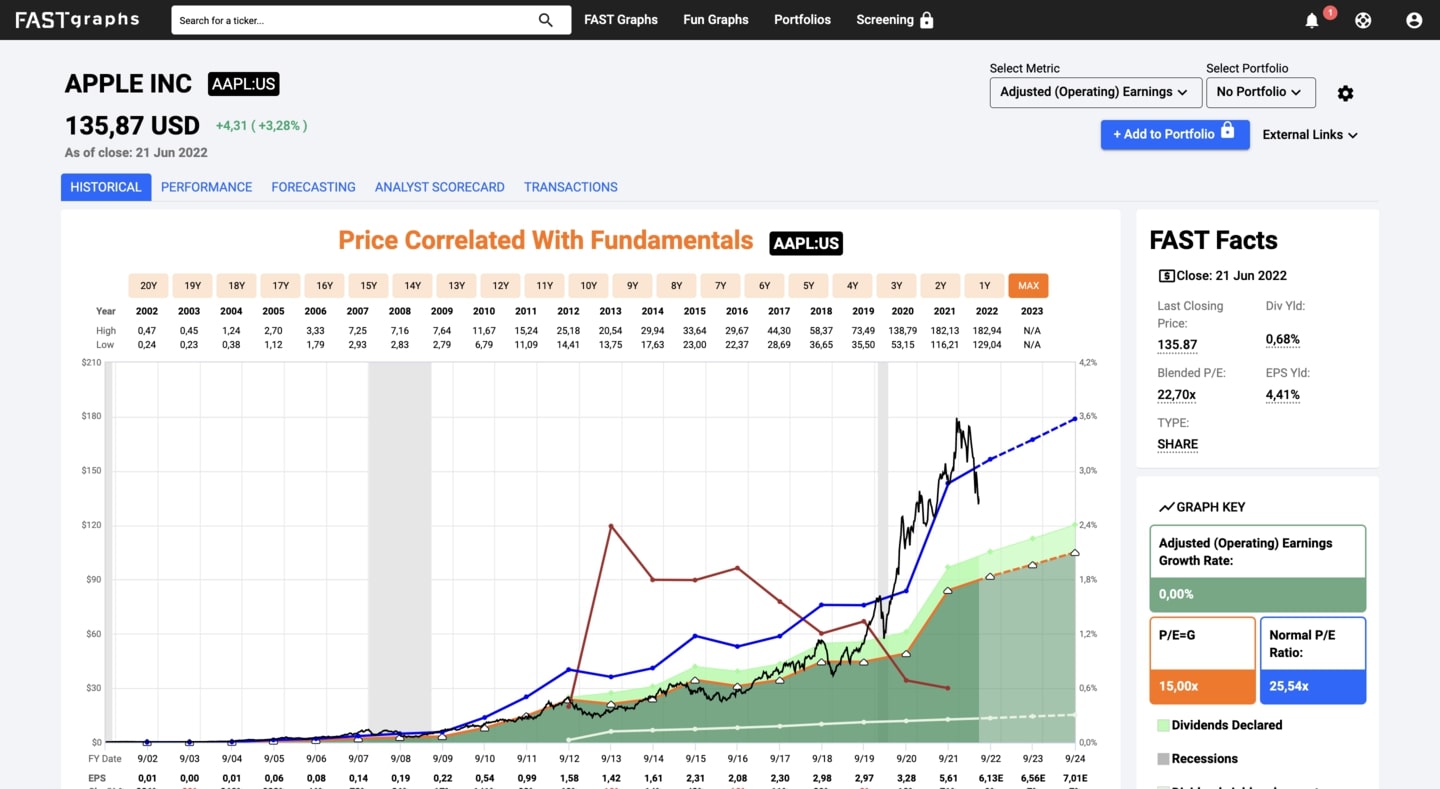 It must be used with caution though, because it can sometimes be misleading, but the founder of Fastgraph does an awesome job on his Youtube channel analysing different stocks using Fastgraph.
Do you want to know what analysts think of a stock? Tipranks gives you a good overview of the general consensus, and how it evolves.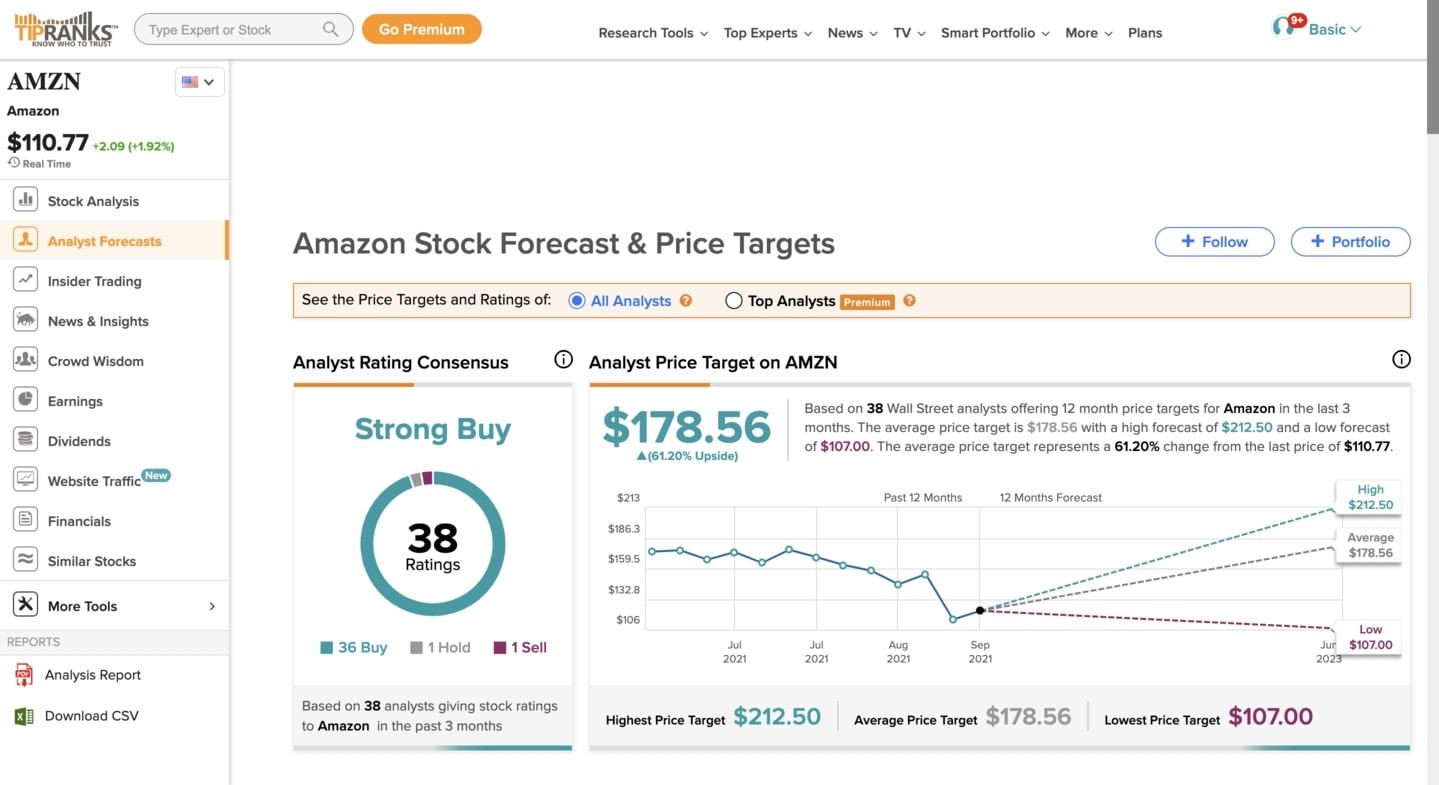 If you want to see what a specific analyst thinks, you might need to upgrade to a premium Tiprank account, but the free version is very useful.
Value Investors Club (VIC) is a sort of forum founded by Joel Greenblatt where value investors give their best investment ideas. You will find here many well-known investors, such as Monish Pabrai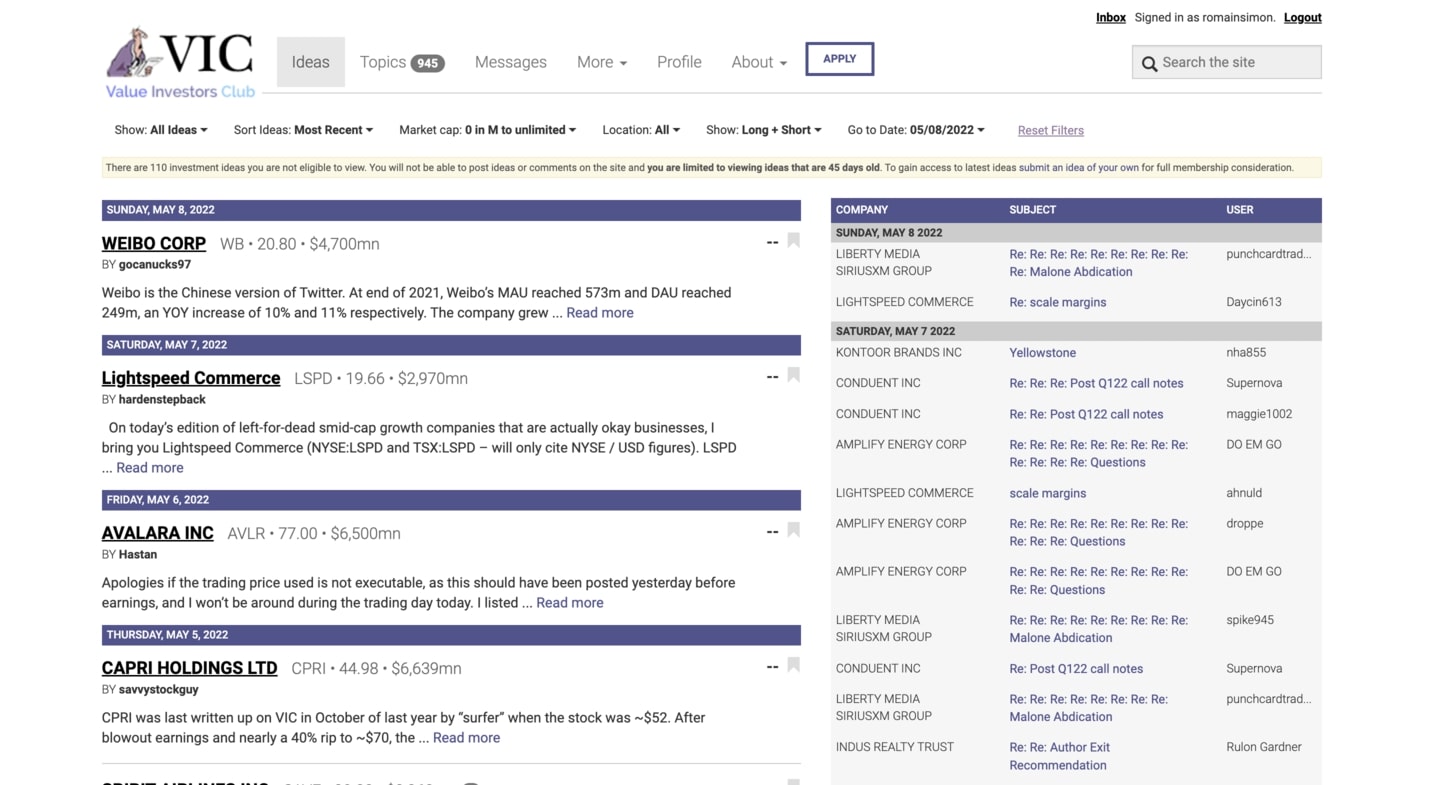 However, it can be quite difficult to get in to see the latest ideas posted, because you need to post an investment idea that is accepted by the community. Actually, I did not manage to have full access, so if you are already part of the club, just email me!
There are some other tools I did not cover because I did not use them enough, but might add later such as Jitter, Magic formula, TIKR terminal, ...
I also did not add some other valuable tools such as Morningstar or Seekingalpha, because they fall more in the category of media than investing software.
You could also find great communities to discuss about Value Investing such as Discord groups, Reddit or Investiforum.
I need to end this top 10 investing software list with my own tool: Beanvest.
Even though I like some of the features of all those tools, none of them was perfect and I also needed to switch between all of them. That's why I started building Beanvest.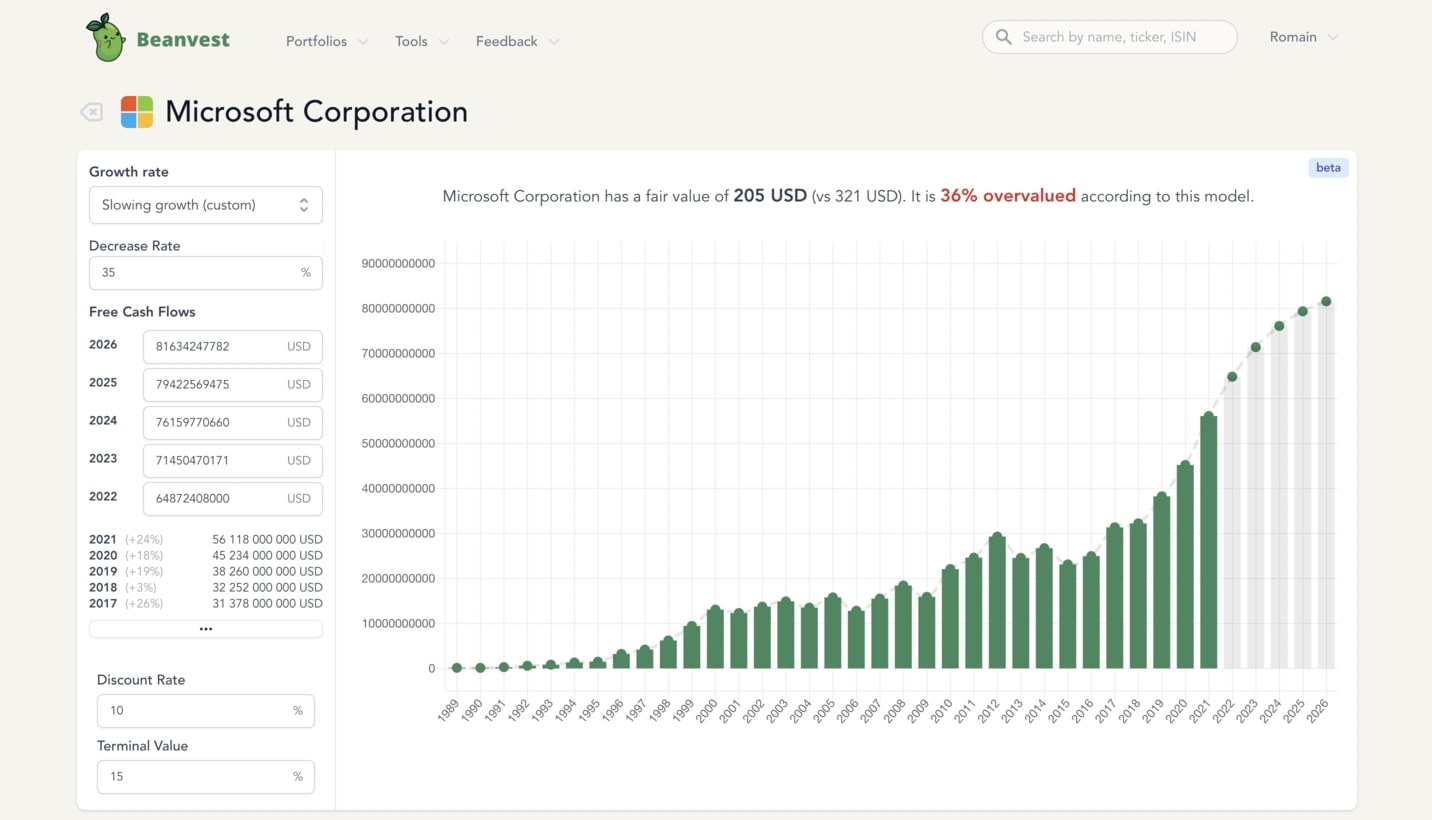 Beanvest aims to be the ultimate tool for value investors with a user-friendly interface and features such as portfolio performance tracker, Discounted Cash Flow Calculator, and many more features to come!
Create a free account below to try Beanvest now!
Beanvest will help you keep track of your investments portfolios and have a better understanding of your performance.
Start with our 100% free portfolio tracker today:
Try Premium for free for 14 days. Cancel anytime