Improved the CSV import to make it easier
Better field mapping for StockMarketEye
Some subfields can be ignored on import
Improved stock matching with symbol having a dot
Importing csv files in chunks to allow larger files
A few changes have been made for Trial accounts:
Credit card is no longer required to enable trial
Historical Performance before the current year is now only for Premium users
Upgrade modal have been improved
A new tab has been added to better show historical portfolio performance: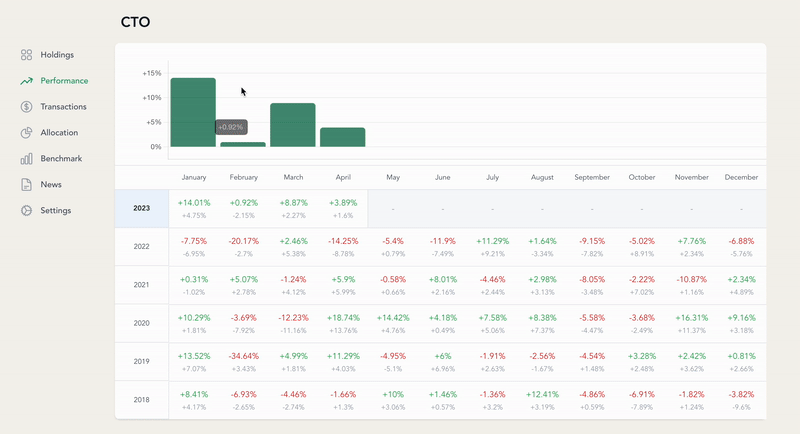 I also move the Benchmark selection to the Settings tabs. I now has some quick selection buttons for some of the most used benchmarks :
S&P 500
Nasdaq
MSCI World
Apple
Berkshire Hathaway
It is also still possible to add multiple benchmarks with "Custom" :

Integration synchronization now shows the last update date
EPS was showing Beat instead of Miss when earnings were negative
You can now create multiple views for your portfolio, which are shown in different tabs.
You can select which columns you want to display for each view, and now see more data than your performance.
You can for example display information such as ROE, ROCE, PE ratio, PEG, Analysts' estimate, Dividend Yield, etc... for all your holdings.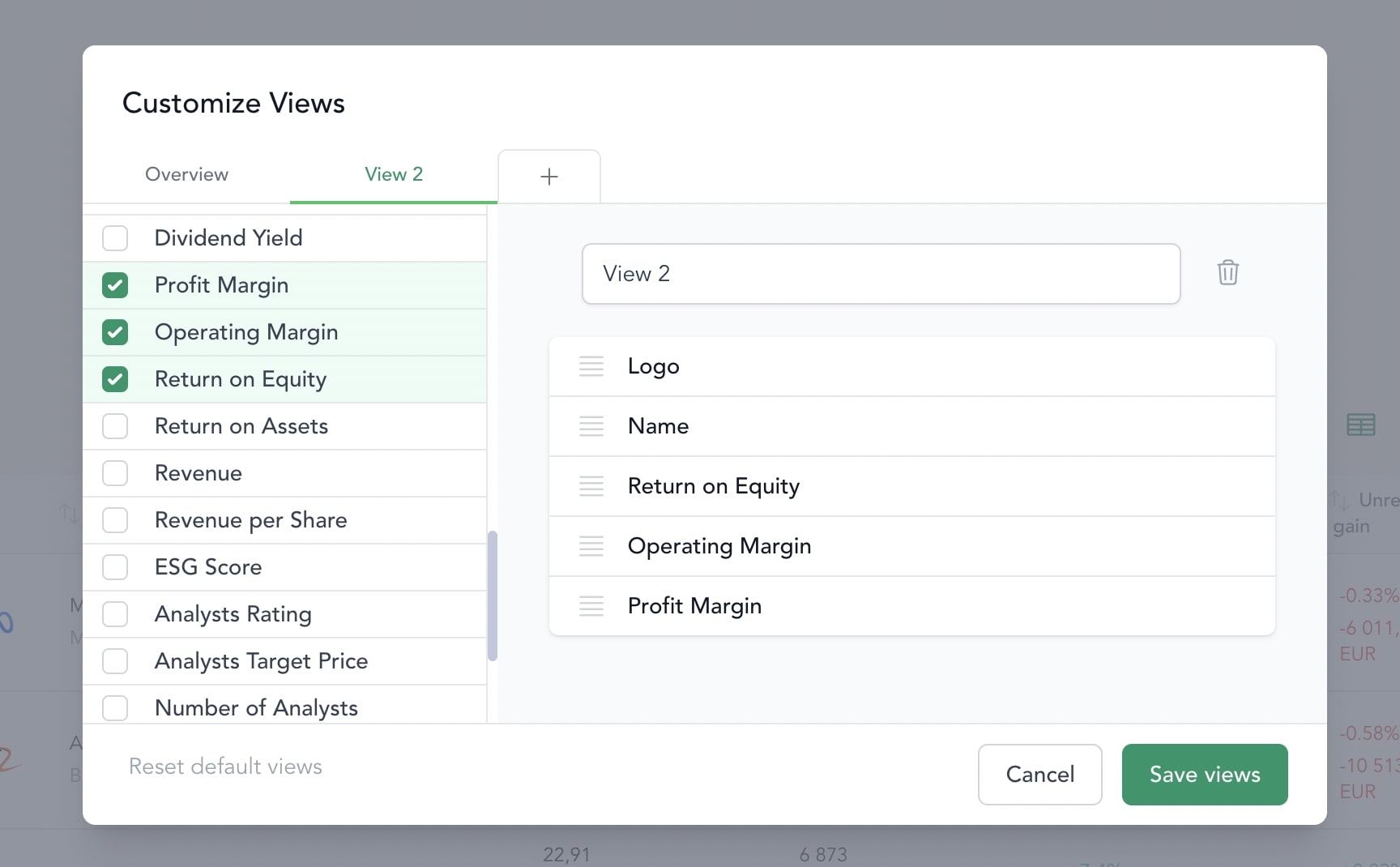 You can also now see open and closed positions only with a new filter!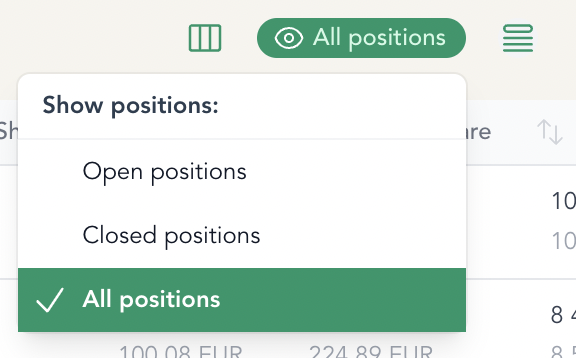 Holdings can now be grouped by Country, Industry, Sector, Currency, etc... in the portfolio overview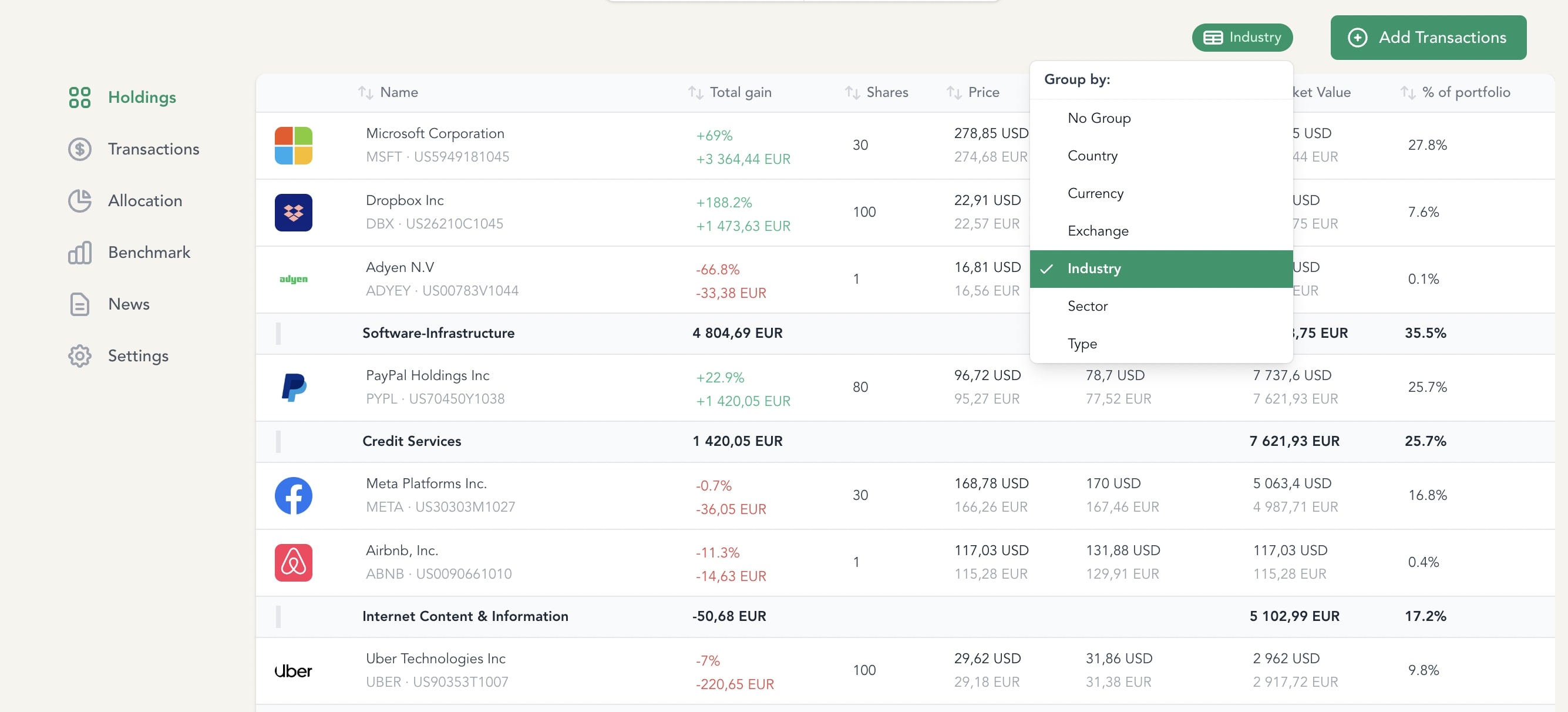 Numbers formatting can be customized in Preferences

There is also a more compact view for news, and they can now be filtered by ticker
Some stocks had a Market Capitalization not up to date
Delisted stocks now appear on Beanvest
Fixing issue on benchmark not displaying
Some assets had no price history
It is now possible to remove the benchmark
Users can opt-out from email communications
You can now download all transactions for a portfolio
Fixed error when parsing Degiro stock prices in english with comma separator
Prices are now updated every 15 minutes instead of every day for cryptos, TSX, Euronext and mutual funds
Fixed issues with some asset pages not displaying
A rounding error issue was fixed with fractional shares
CSV import automatic mapping has been improved for some fields
CSV import date selection issue has been fixed, and new date formats are now supported
New users are now Welcomed with a nice message :)
Somes minor bugs the asset page fundamental chart have been fixed.
More information has been added on asset pages.
You can now see by default fundamental data with charts that give a quick overview or revenue, free cash flows and net income :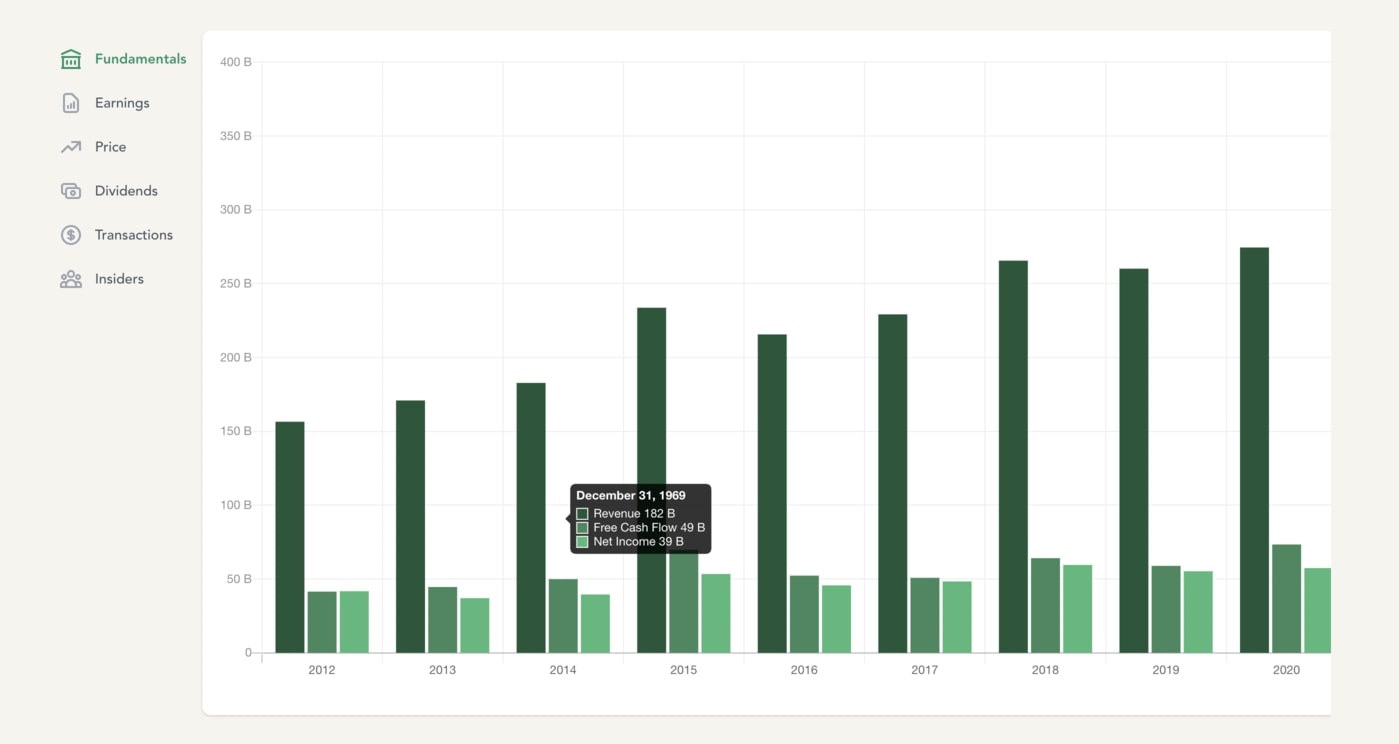 Another tab now shows dividends history for stocks :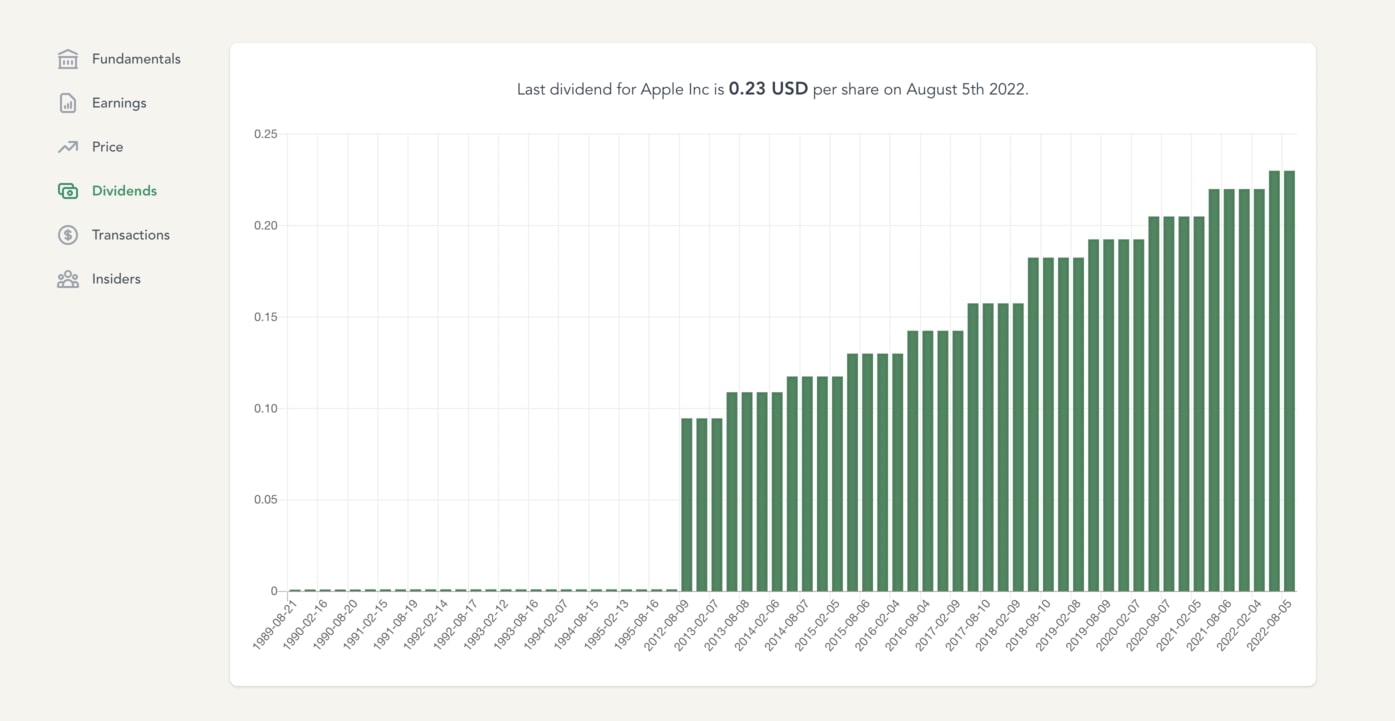 Last but not least, there is not an Insiders tab that shows the latest insiders transactions on the asset: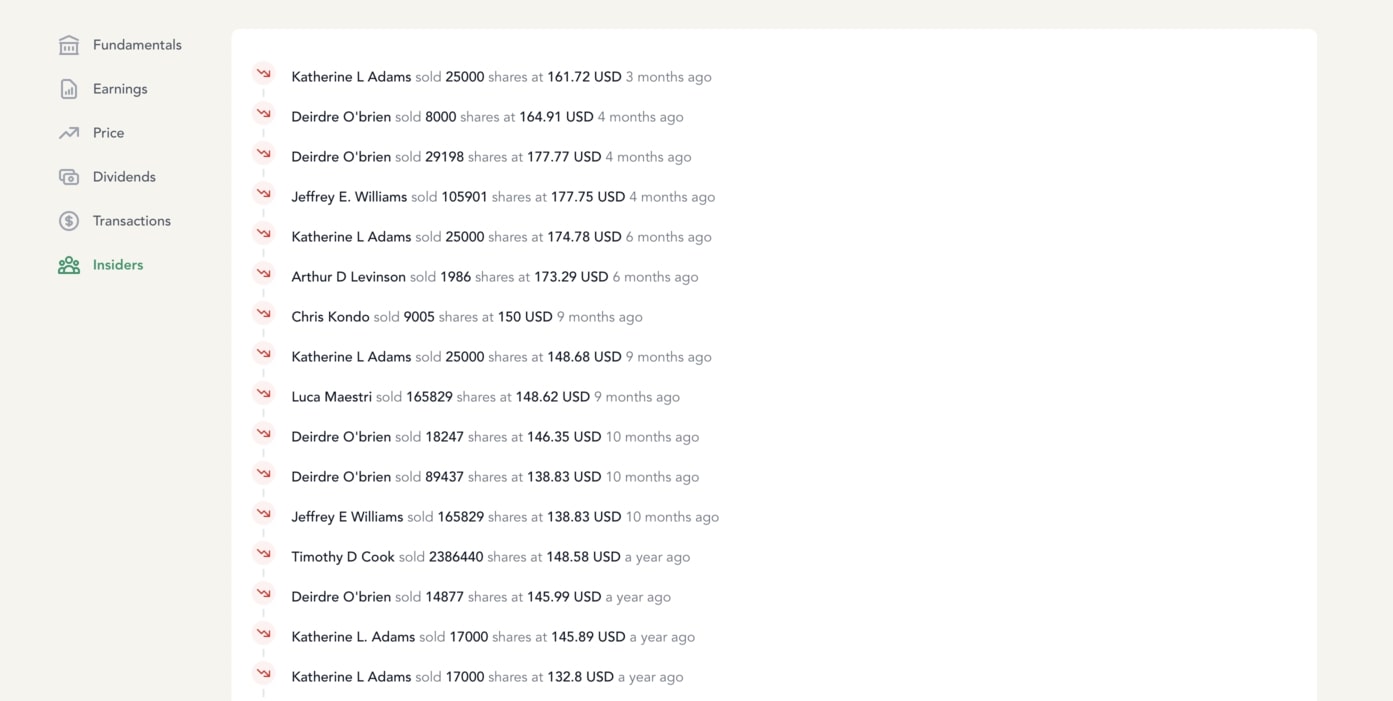 Analysts Rating has also been added with a target price :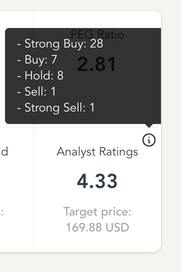 Menus are closed when hovering out
DCF calculator shows an error message when selecting any asset other than common stock
Number of years projected can be selected for DCF
Units shown can be selected for DCF
Users can now add coupon codes when subscribing
Asset search display has been improved
Asset search has been improved when searching for a ticker
Login issue has been fixed here user could not login
Responsive version has been improved
A new tool is now available to easily calculate the fair value of a stock: the DCF Calculator.
You just need to select a stock, a growth scenario for cash flows, and see the calculation.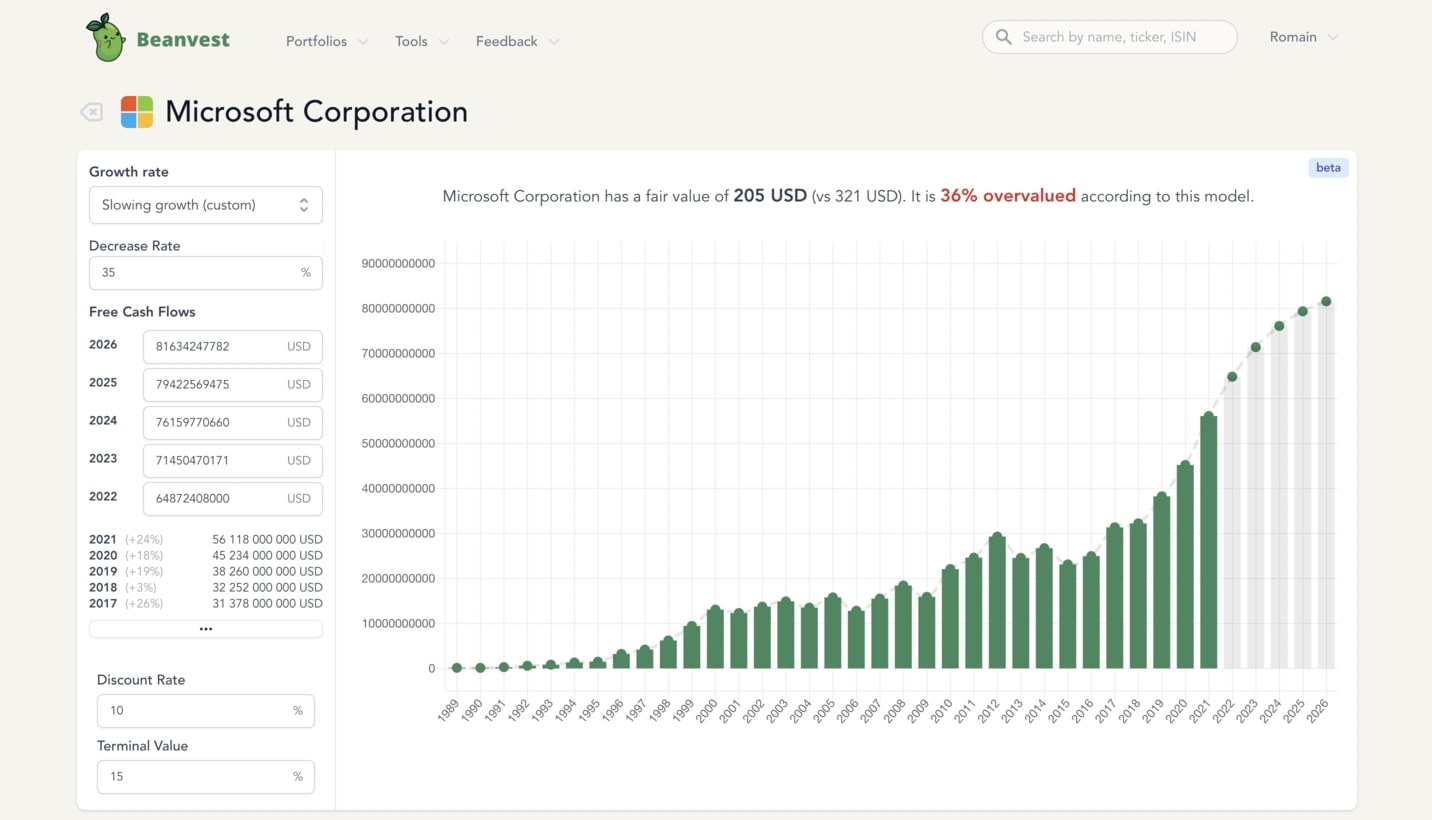 The way dividends are added is more intuitive (no quantity is shown) and the return calculation has been improved.
Before this update, Beanvest was only taking into accounts unrealized gains.
Now, it takes into account the following components in the return calculation (for each line as well as the total return of the portfolio):
Realized gains (from assets sold)
Unrealized gains
Dividends
Fees
These return calculation details are also shown in a tooltip: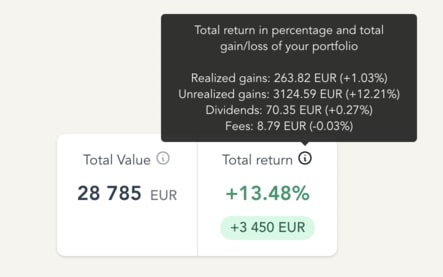 You can now see an earnings chart for each stock, also showing if the company beats earnings estimates :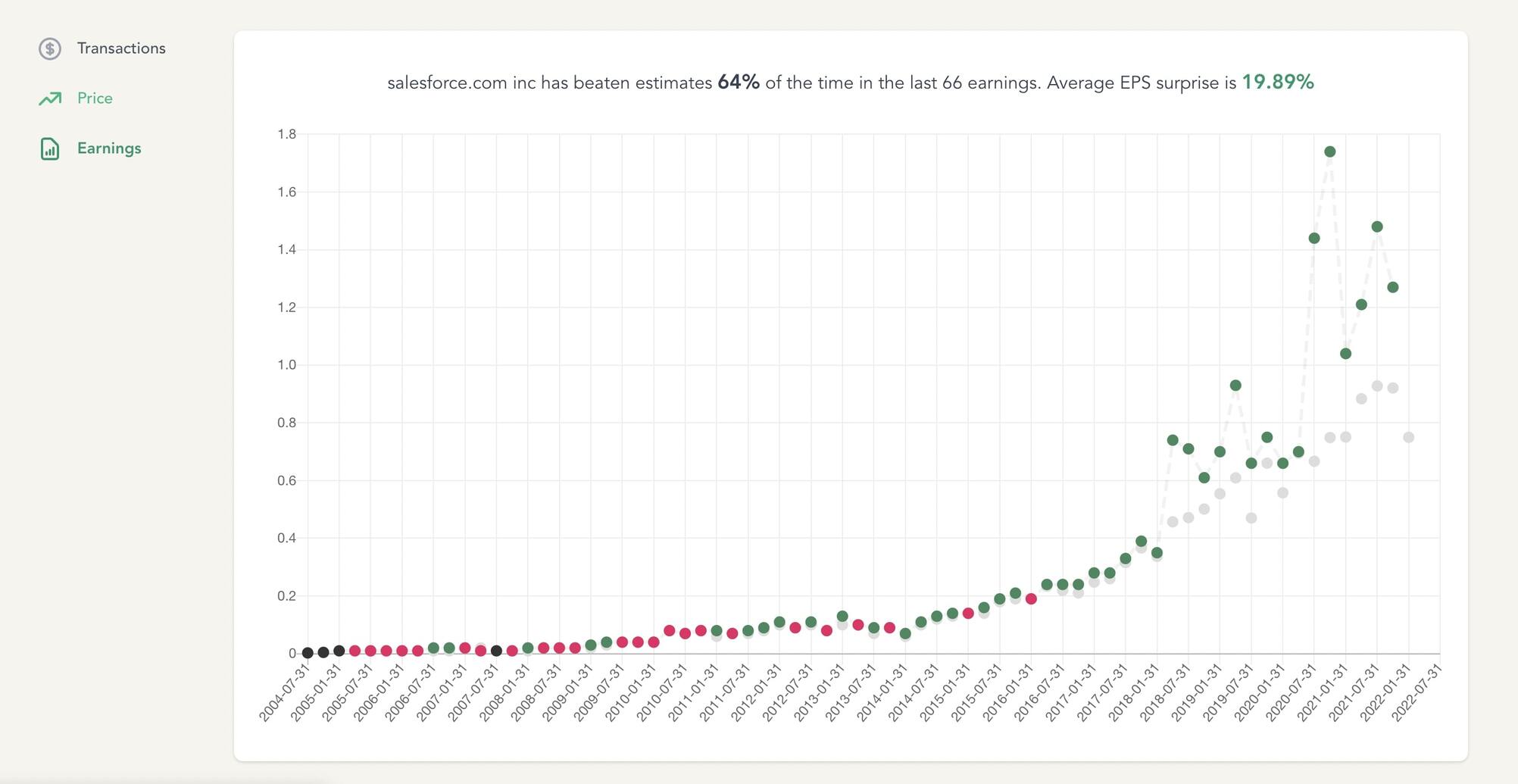 Matching transactions from Degiro has been improved but taking into account more information (Isin, currency, ...)
Users can add comments on feedback when unsubscribing
All transactions are now properly deleted when deleting a portfolio
You can now subscribe to a Yearly Premium plan
Invoices are available in your account billing settings
The general navigation in the application has been improved, and asset pages are now live!
Here are the changes made:
You can search for assets (stocks, ETFs, cryptocurrencies, ...) in the top search bar
You can easily switch from one portfolio to another from the navigation menu
Icons have been improved and should be more accurate
The layout for transactions is improved and displays more information such as fees and comments
You can add fees and comments when editing transactions
Portfolio settings are now in a dedicated tab
Light view when switching from the main tab in a portfolio
And last but not least, each asset has a dedicated page with an overview :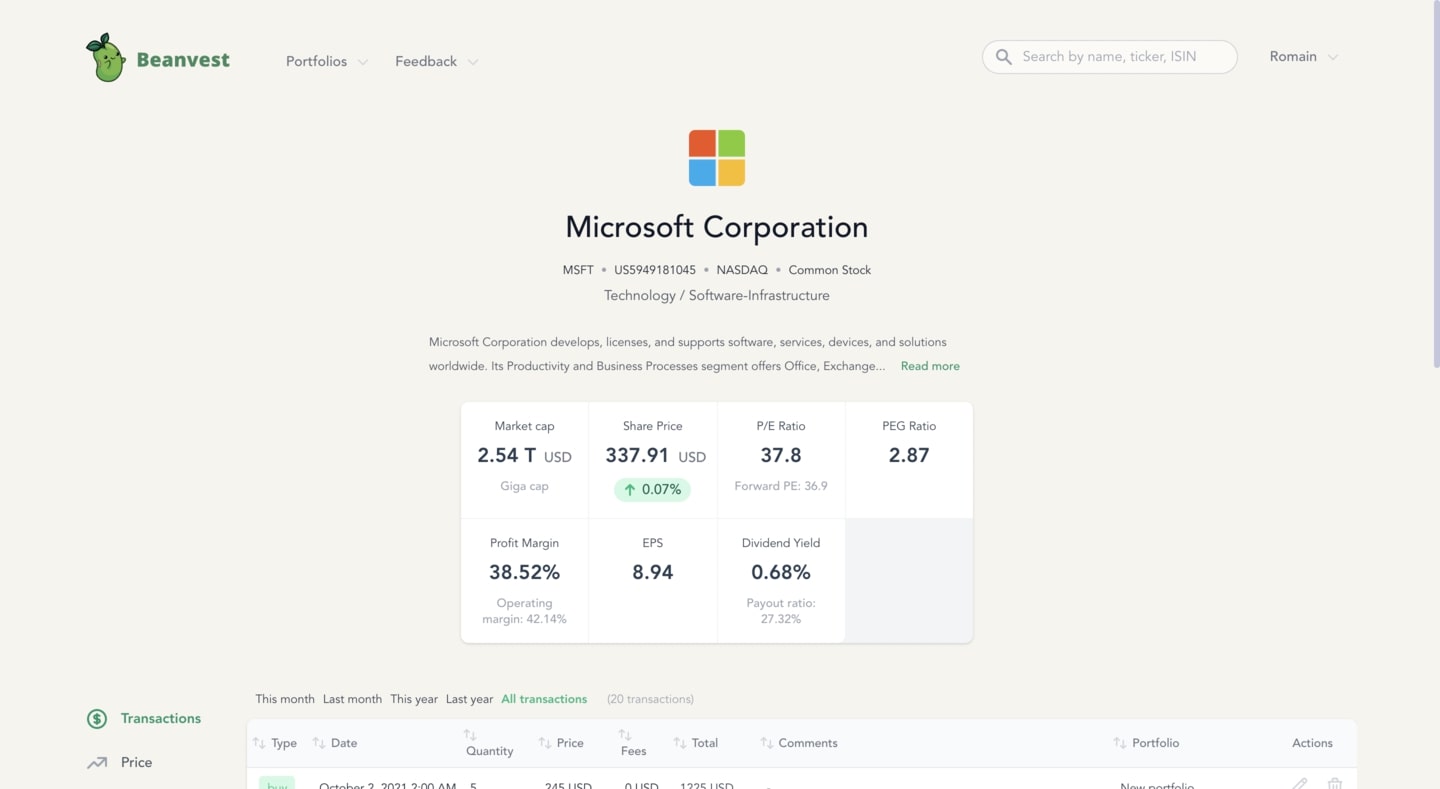 Below, you can see the historical price for this asset, and all your related transactions :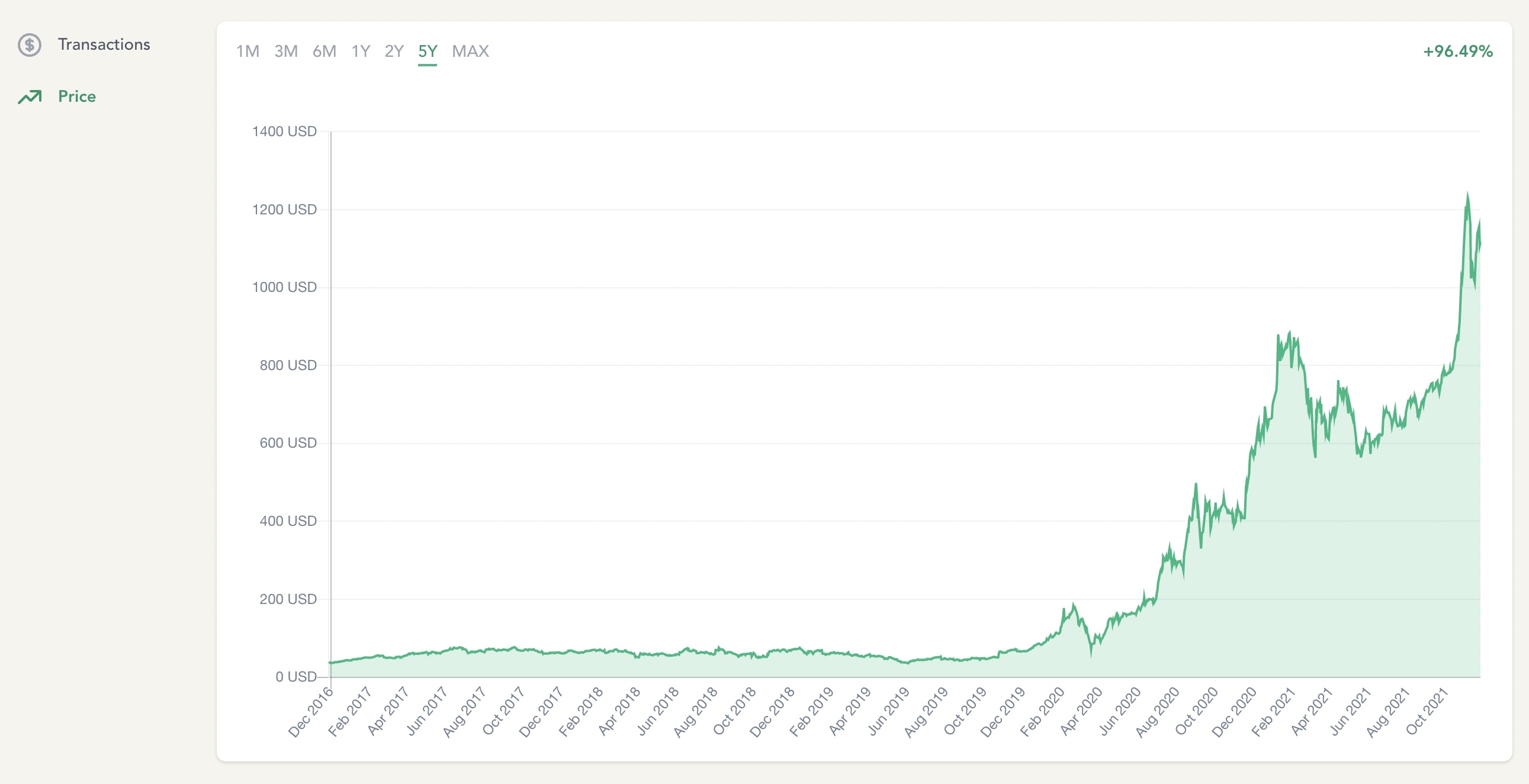 An issue was fixed causing the date to not be updated when editing transactions
Integrations are now available for Premium users. This allows to connect your broker with Beanvest: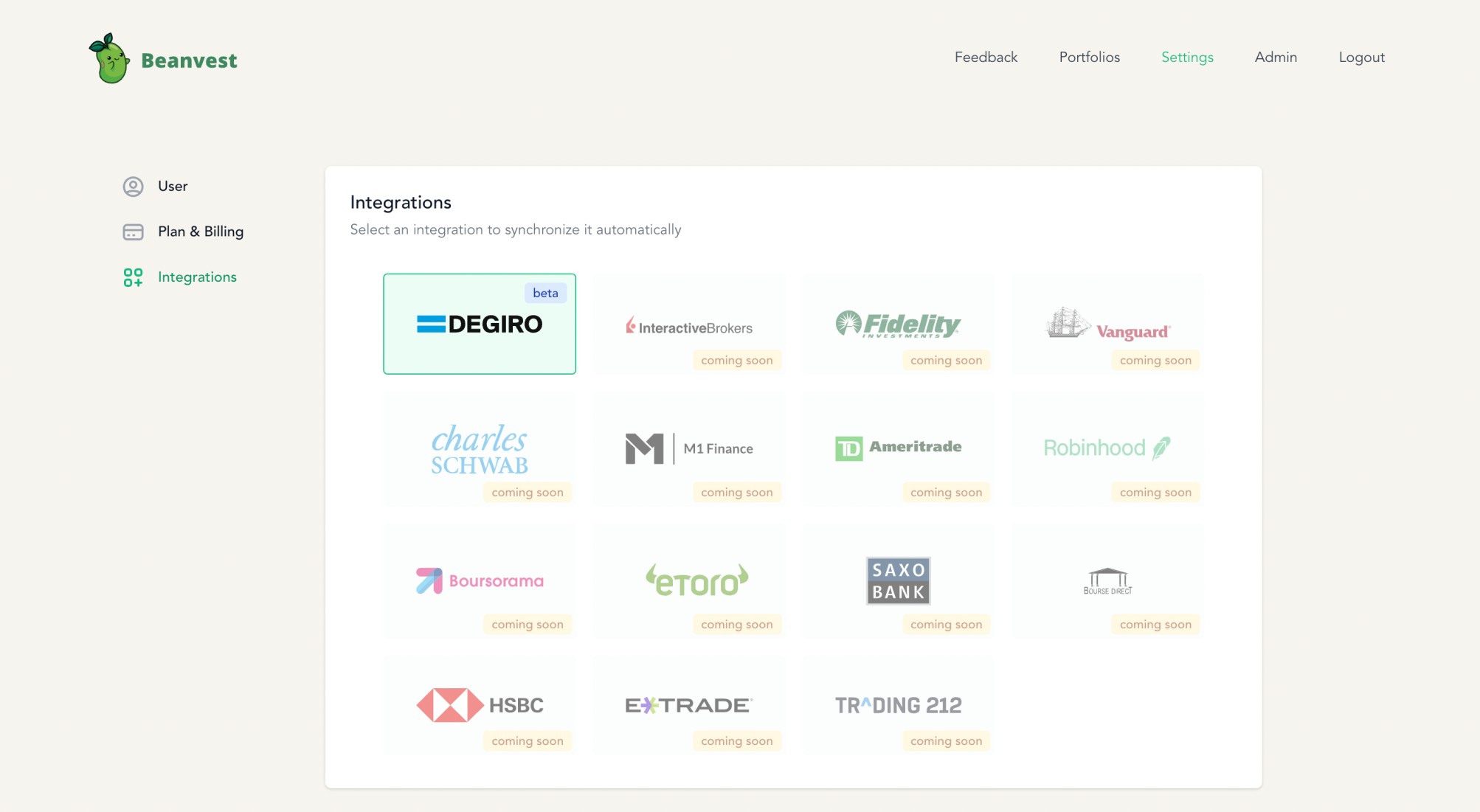 You can now connect your Degiro account and synchronize all your transactions automatically with any portfolio: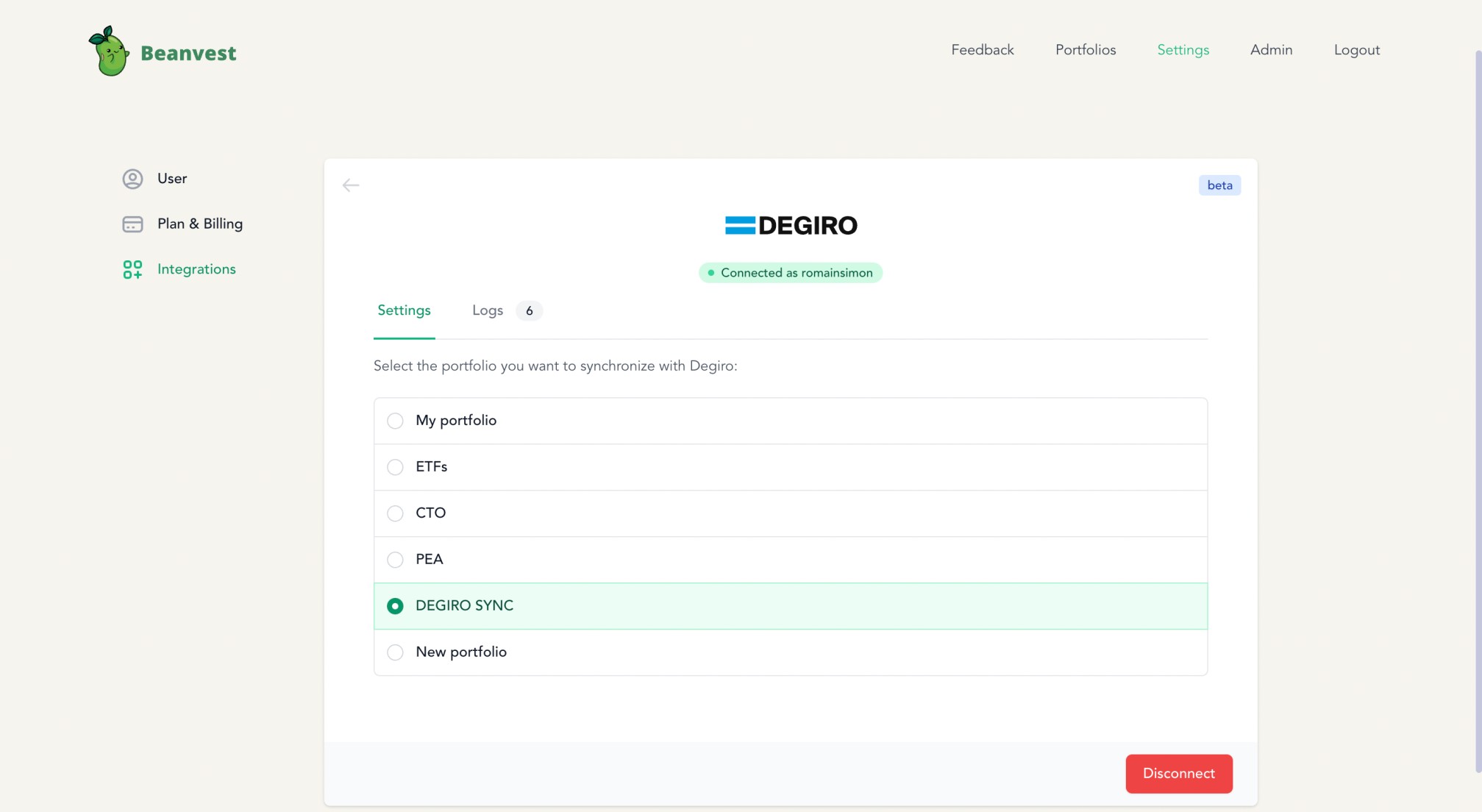 Beanvest now offers the easiest Degiro portfolio tracker
You can now receive a weekly performance report by email for each portfolio.
Transactions can now be edited.
A News tab is now available to your portfolio. News shown are related to your holdings.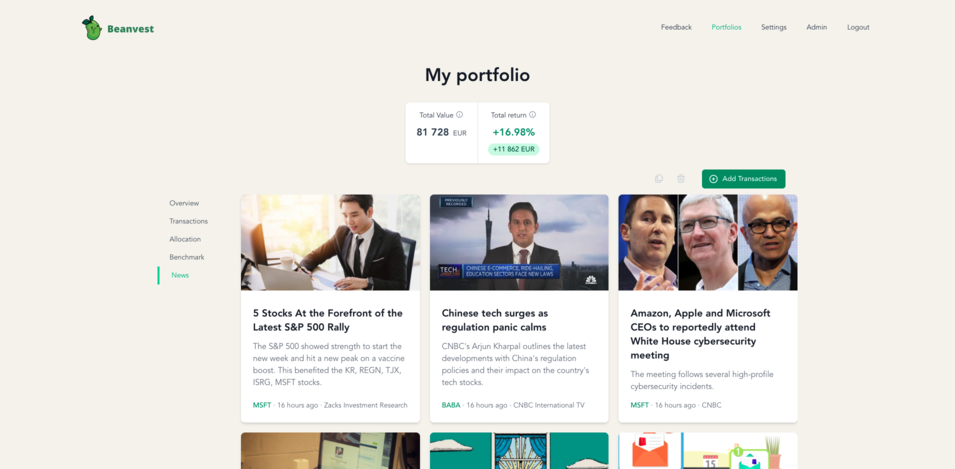 You can filter by asset category when adding transactions
Added some missings ETFs and cryptocurrencies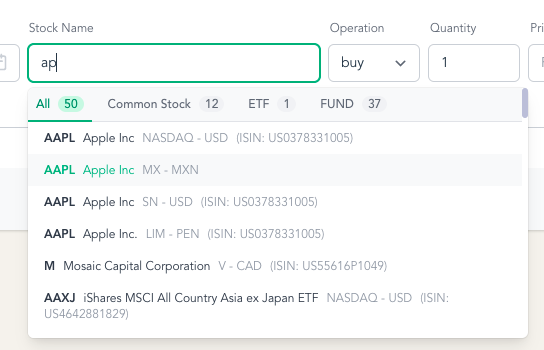 Import transactions with .csv file
Improve transactions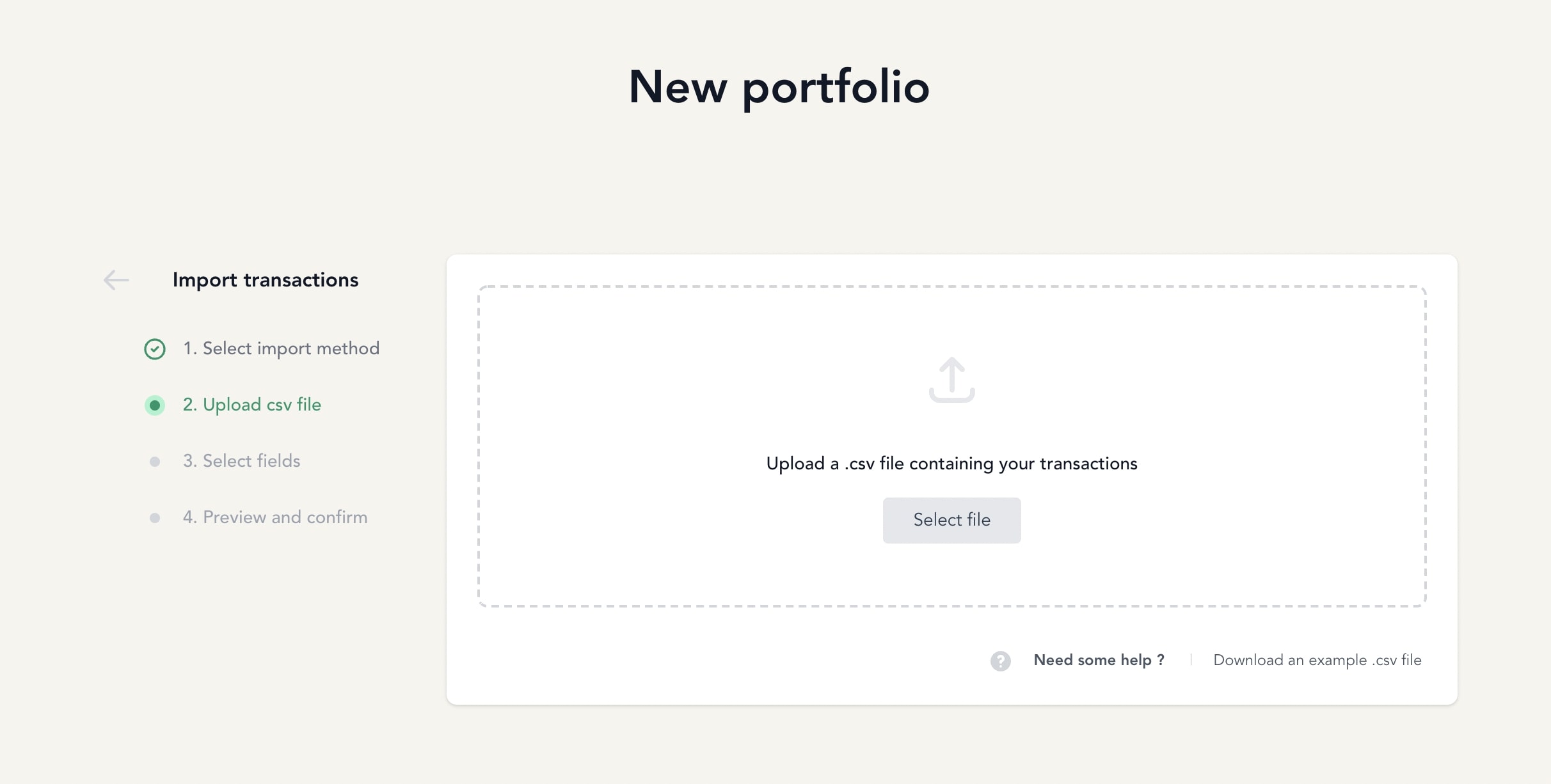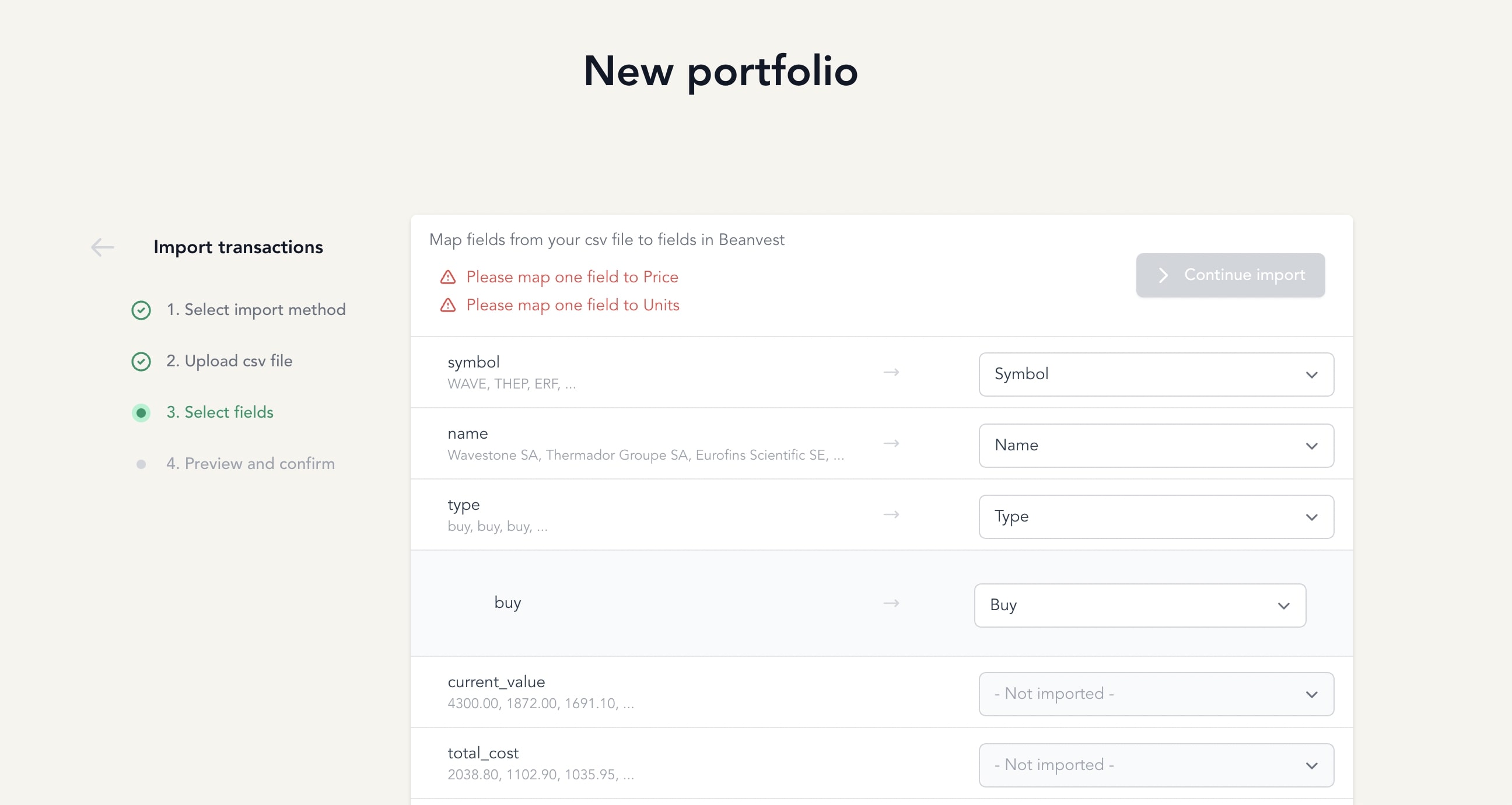 Improve the style and readability of portfolio benchmark charts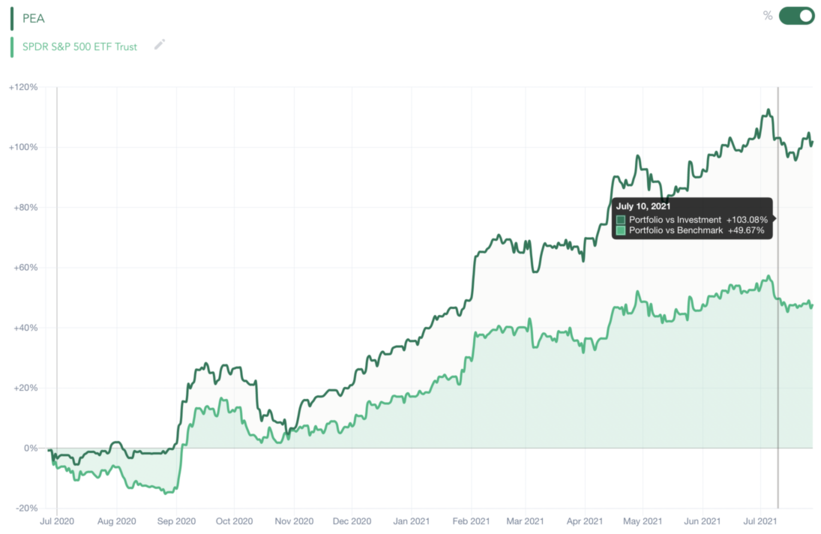 Daily gains are now displayed in the stocks overview table
All tables can be sorted by any column name

Stonkspace has a new identity and has been renamed to Beanvest !
You can read more about the annoucement here.
New website, new logo, new everything
Application has been entirely restyled
Premium plan
New allocations charts have been added.
You can see your allocations percentage by:
Holdings
Currencies
Asset classes
Countries
Market cap
Industries
Sectors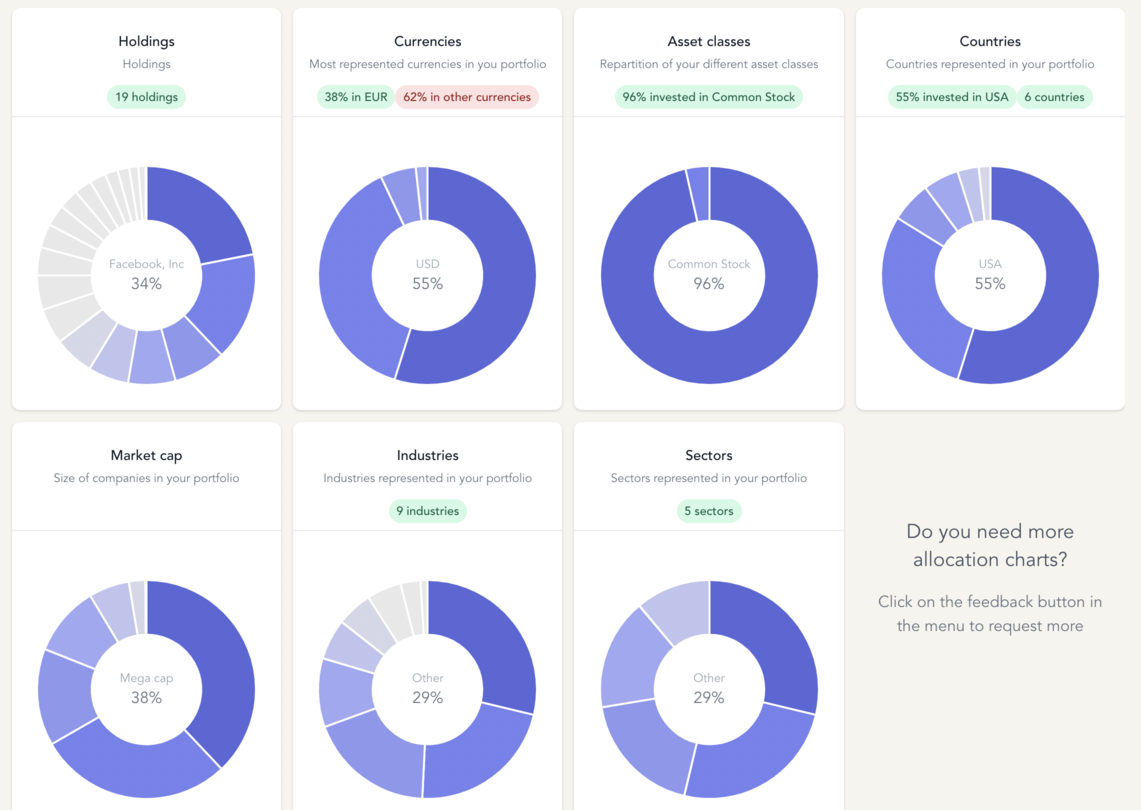 More allocation charts will probably be added later.
Your stock portfolios now have multiple tabs, and you can now see the historical performance of your stocks portfolio.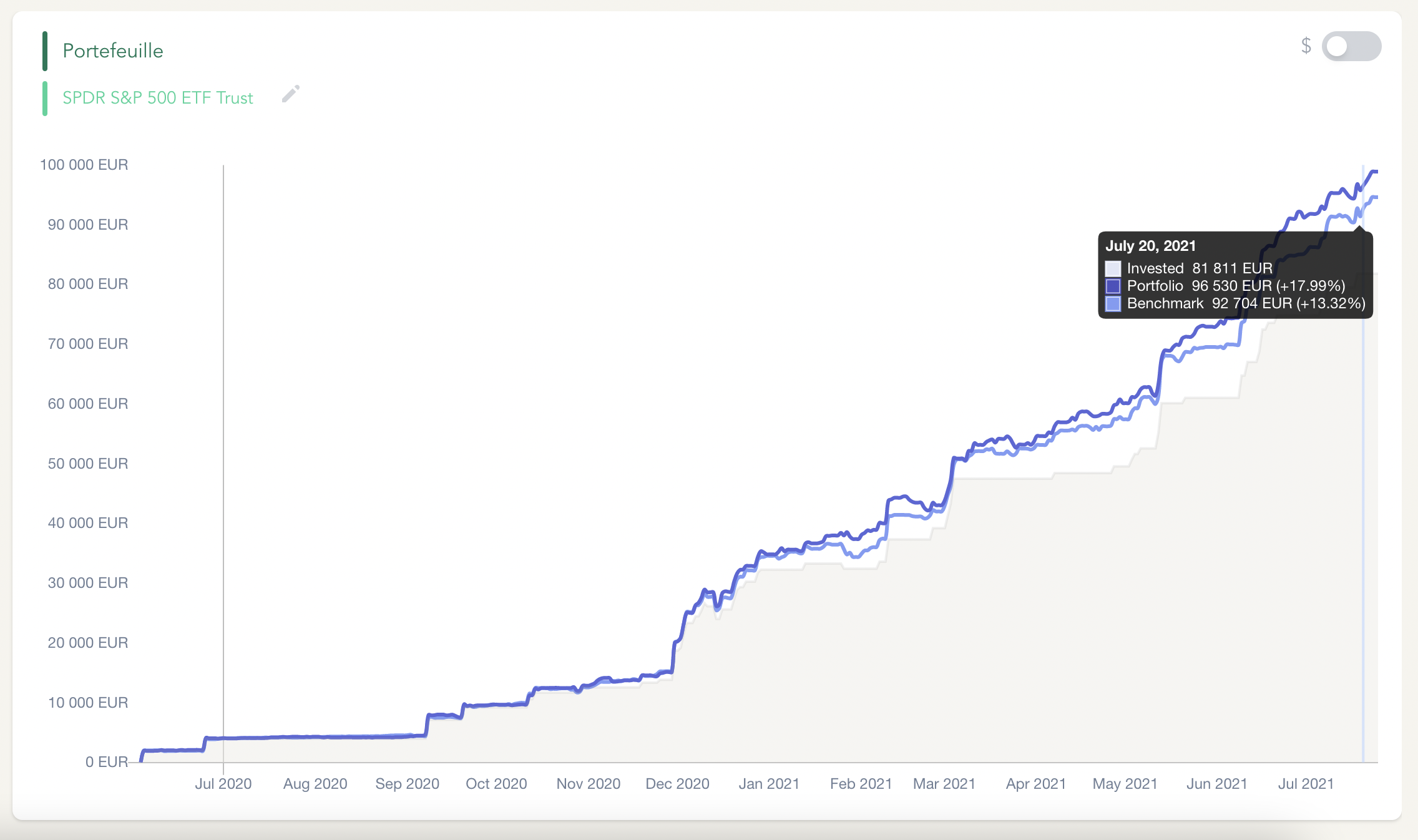 The way it works it that you can define a benchmark index. It can be an index such as SPY, or any combination of stocks or ETFs (for example 80% SPY + 15% VWCE + 5% TSLA)
Each time you buy new securities in your portfolio, it will simulate how your portfolio would have evolved if you invested the same amount in your benchmark index instead.
The 3 charts represent :
Your stocks portfolio total value
You benchmark total value
The total amount invested in your portfolio
I am now using a new data source that supports more stock markets. For example LSE, XETRA or Asian markets were missing.
You can now find more than 70k+ stocks, ETFs, mutual funds, commodities, cryptocurrencies, bonds, ...
New date source with 70 000 stocks, ETFs, mutual funds, commodities, cryptocurrencies and bonds
All prices are updated daily
Currency conversion : you can set a base currency in you account settings and everything is converted automatically
List of transactions
Fix Stocks performance calculation issues
Fix Better responsive display
Fix Date picker now allows to select date before the current year, and not after today
This is the first version is live. Here's a list of the features available:
Create multiple stocks portfolios
Add or delete transactions
See a pie chart of your current holdings & total value
Duplicate a portfolio with all transactions (this is useful if you want to test a variation of your portfolio, to test how it would look if you bought a certain stock)
See the current value and profit for each stock you hold. This is updated in real time with current stock values.