September 22, 2021 (1.0.6) - Transaction edition
Transactions can be edited
August 5, 2021 (1.0.5) - Stocks news
A new tab is available in your portfolio displayed news related to your holdings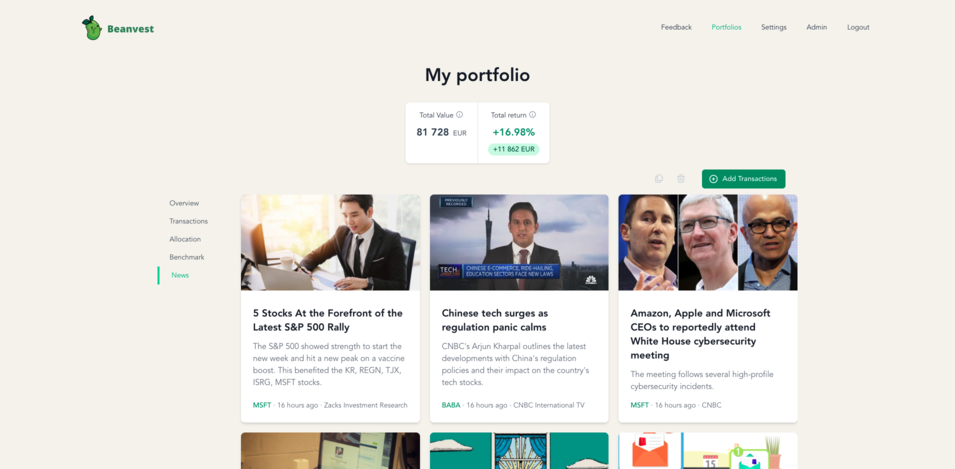 August 4, 2021 (1.0.4) - Search asset by category
You can filter by asset category when adding transactions
Added some missings ETFs and cryptocurrencies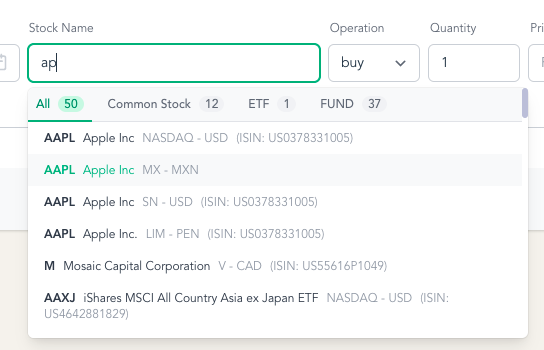 July 29, 2021 (1.0.2) - New chart style
Improve the style and readability of portfolio benchmark charts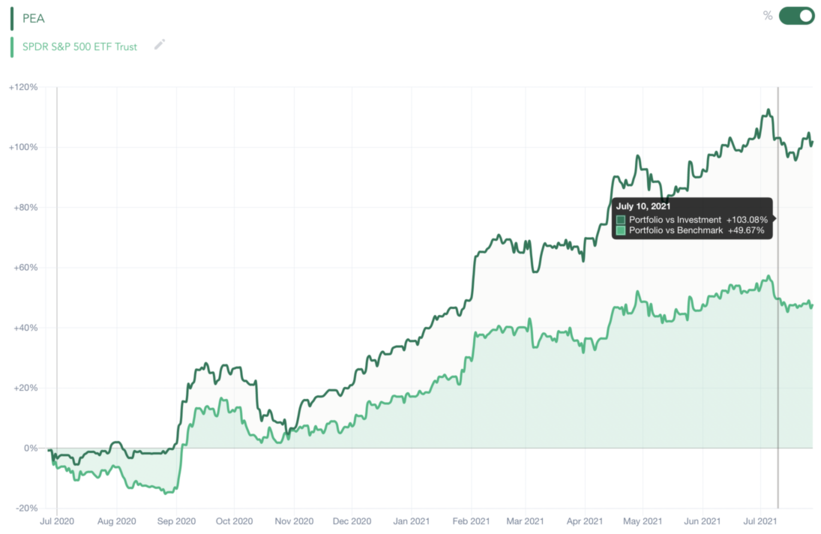 July 26, 2021 (1.0.1) - Improved tables
Daily gains are now displayed in the stocks overview table
All tables can be sorted by any column name

July 4, 2021 (1.0.0) - Beanvest = ❤️
Stonkspace has a new identity and has been renamed to Beanvest !
You can read more about the annoucement here.
New website, new logo, new everything
Application has been entirely restyled
Premium plan
June 15, 2021 (Beta 0.1.3) - Allocation charts
New allocations charts have been added.
You can see your allocations percentage by:
Holdings
Currencies
Asset classes
Countries
Market cap
Industries
Sectors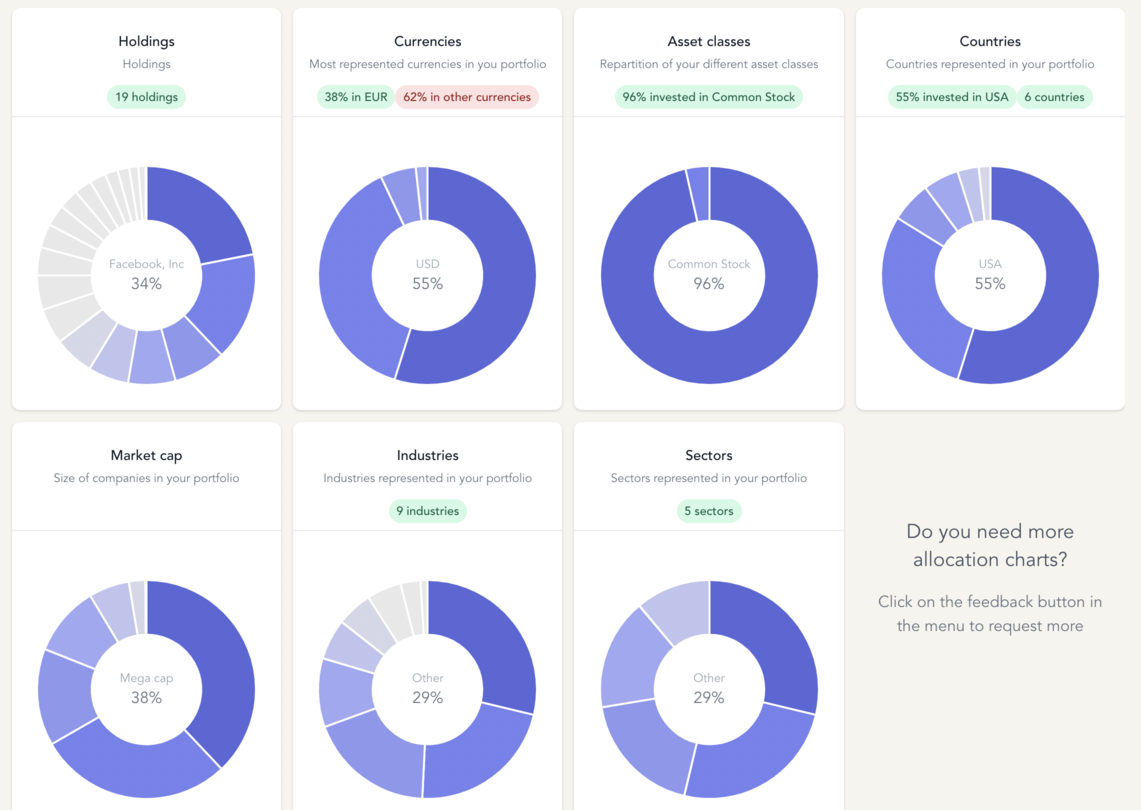 More allocation charts will probably be added later.
November 7, 2020 (Beta 0.1.2) - Portfolio performance benchmark
Your stock portfolios now have multiple tabs, and you can now see the historical performance of your stocks portfolio.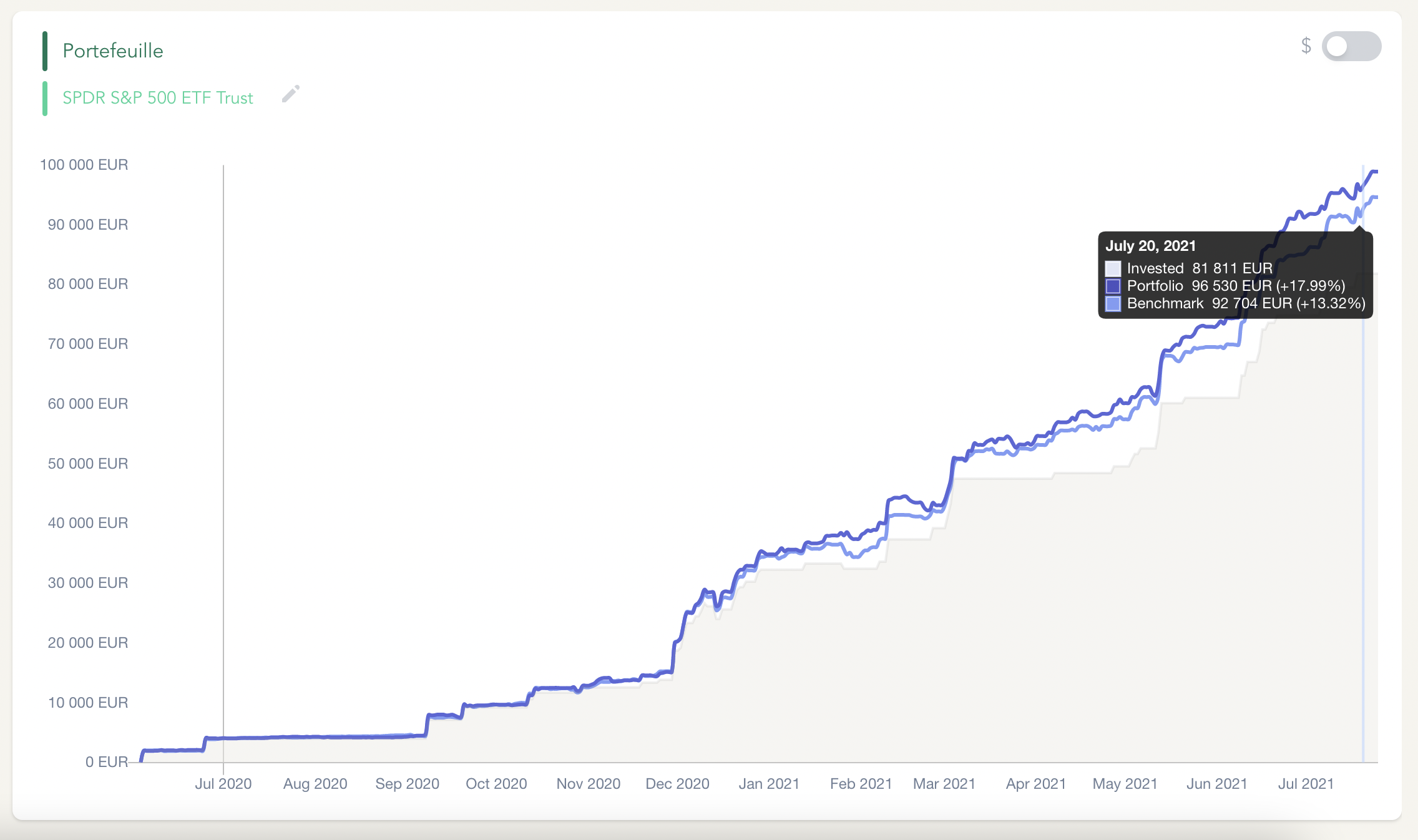 The way it works it that you can define a benchmark index. It can be an index such as SPY, or any combination of stocks or ETFs (for example 80% SPY + 15% VWCE + 5% TSLA)
Each time you buy new securities in your portfolio, it will simulate how your portfolio would have evolved if you invested the same amount in your benchmark index insted.
The 3 charts represent :
You stocks portfolio total value
You benchmark total value
The total amount invested in your portfolio
October 14, 2020 (Beta 0.1.1) - New data source
I am now using a new data source that supports more stock markets. For example LSE, XETRA or Asian markets were missing.
You can now find more than 70k+ stocks, ETFs, mutual funds, commodities, cryptocurrencies, bonds, ...
New date source with 70 000 stocks, ETFs, mutual funds, commodities, cryptocurrencies and bonds
All prices are updated daily
Currency conversion : you can set a base currency in you account settings and everything is converted automatically
List of transactions
Fix Stocks performance calculation issues
Fix Better responsive display
Fix Date picker now allows to select date before the current year, and not after today
October 12, 2020 (Beta 0.1.0) - Beta version is live 🎉
This is the first version is live. Here's a list of the features available:
Create multiple stocks portfolios
Add or delete transactions
See a pie chart of your current holdings & total value
Duplicate a portfolio with all transactions (this is useful if you want to test a variation of your portfolio, to test how it would look if you bought a certain stock)
See the current value and profit for each stock you hold. This is updated in real time with current stock values.