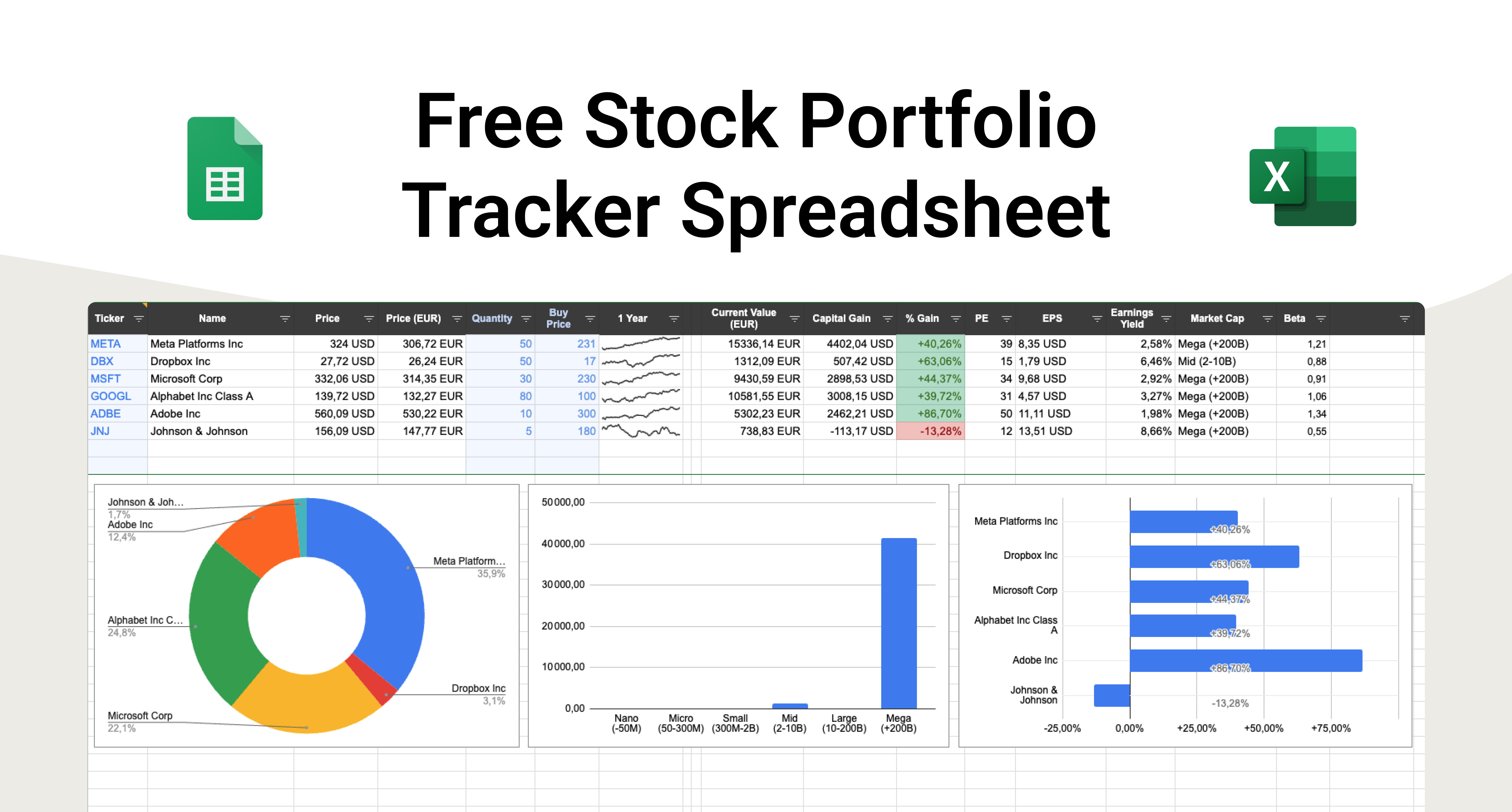 Here's a free stock portfolio tracker spreadsheet to track your stocks portfolio.
You can download it here.
In order to be able to edit the stock portfolio tracking spreadsheet, you need to make a copy.
Go to the Spreadsheet here
Click on "File" and "Make of Copy"
You have now your own copy of the Google Sheets stock portfolio tracker your can edit with your own data.
Most of the data is pulled automatically from Google Finance.
Alternatively, you can also download the portfolio tracker in an Excel format.
Go to the Spreadsheet here
Click on "File", then "Download" and "Microsoft Excel (.xlsx)"
However, it is best to keep the portfolio tracker using Google Sheets, because all stocks data are pulled automatically from Google Finance and updated in real time.
If you're using the Google Sheets verison, you only need to edit numbers in blue or or tickers in colors. All other numbers are pulled from Google Finance or calculated automatically.
You can customize your preferred currency instead of EUR, and all numbers will be converted. However, this does not take into account historical exchange rates (you can use Beanvest if you need this.)
You can add positions by pulling new lines. You only need to complete the 3 information in blue : ticker, quantity and buy price.
You can find the right tickers corresponding to your stocks using Google Finance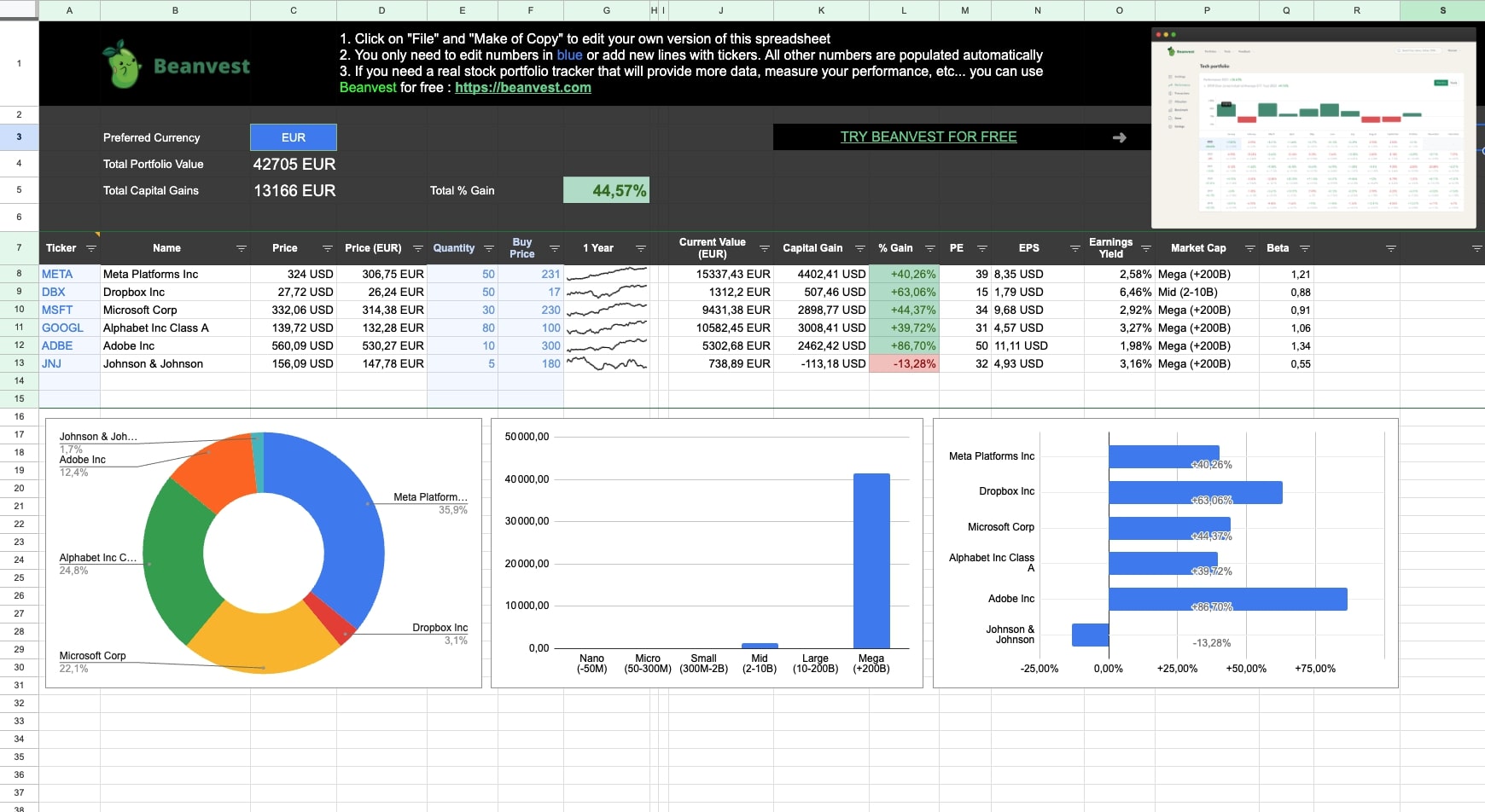 There are currently 3 charts displayed for your stocks portfolio:
A pie chart with each position and its percentage in the portfolio
A column chart showing exposition to different company sizes (small caps, mid caps, large caps, ...)
A bar chart showing the percentage gain of each position in the portfolio
Beanvest is a free stock portfolio tracker that will allow you to get more advanced information than this portfolio tracking spreadsheet. For example, it will measure your historical performance and compare it to any benchmark such as the S&P 500. Create an account below and become a better investor!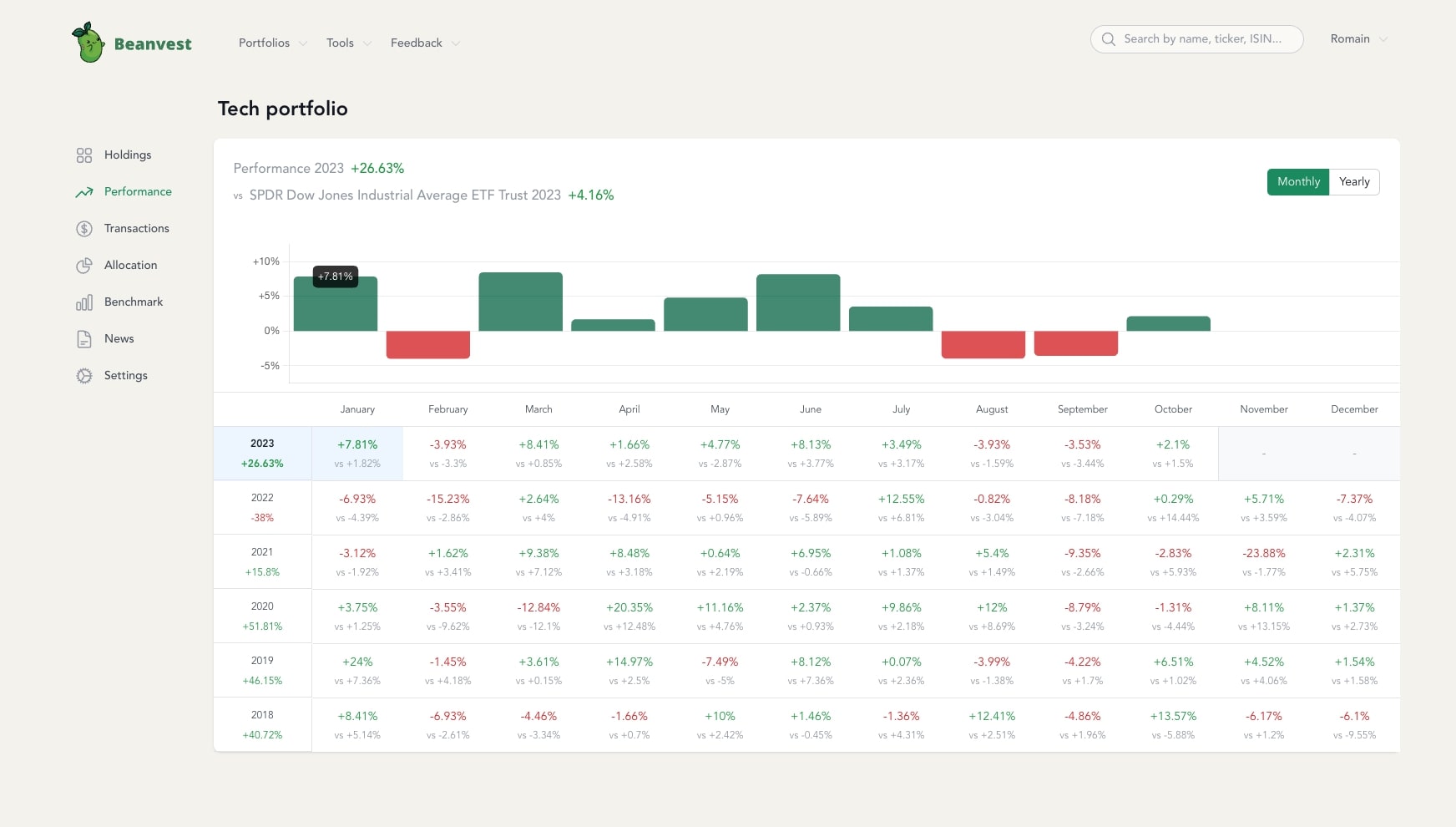 Beanvest will help you keep track of your investments portfolios and have a better understanding of your performance.
Start with our 100% free portfolio tracker today:
Try Premium for free for 14 days. Cancel anytime