Balance Sheet
A balance sheet is a financial statement that is a snapshot of a company's finances at a specific point in time. It is one of the three fundamental financial statements that shows the capital structure of the company: what the company owns, and how it is financed, either via equity or debt.
In order to know of the financial health of a company evolves, it is often interesting to compare balance sheets at different times.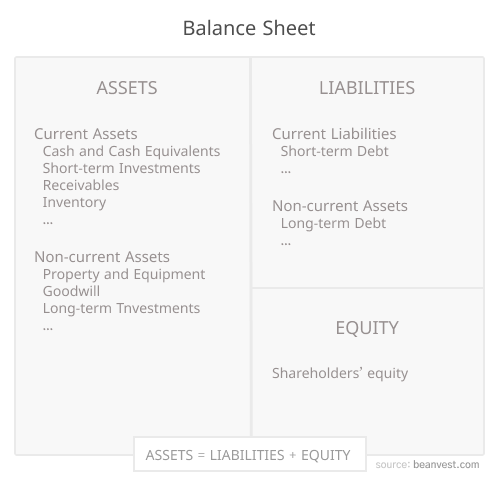 The balance sheet is divided into two sides :
On the left side, the company's assets (cash, inventory, ...)
On the right side, the company's liabilities (rent, taxes, loans, ...) and shareholders' equity
The two sides of the balance sheet must always be equals, giving the following formula:
Assets = Liabilities + Equity
In order to make sure the balance sheet stays balanced, accountants use a double-entry accounting system.
For example, if a company uses cash to pay a $100,000 debt, we will remove $100,000 both on assets to account for the cash used, and $100,000 on liabilities to account for the debt paid.
Assets are listed on the left side of the balance sheet, generally broken down into two categories: current assets and non-current assets.
Current Assets includes:
Cash and Cash Equivalents
Short-term Investments
Receivables
Inventory
Non-current Assets includes:
Property, Plant, and Equipment
Goodwill
Long-term Investments
Liabilities are represented on the right side of the balance sheet and represent what the company owes. It is generally broken down into current and non-current liabilities.
Current Liabilities includes:
Accounts payable
Short-term Debt
Deferred revenue
Inventory
Non-current Liabilities includes:
Property and Equipment
Goodwill
Long-term Debt
Shareholders' equity represents what the company is worth once all liabilities have been paid.
At the beginning of a business, common shares value is equal to the amount invested in the company at its inception. When a company grows its earnings and produces a profit, it can appear in the balance sheet a retained earnings or be paid out to shareholders as a dividend.
Common Stock and Preferred stock holdings
Retained earnings
For a more concrete example, here's a Balance Sheet from Apple :